Japanese retailer, CafeReo, has announced a line of Kingdom Hearts goods to be released later this year. Their items include a clear Kingdom Hearts pouch, Kingdom Hearts stained glass designed stickers, and an Organization XIII badge collection.
CafeReo's Kingdom Hearts clear pouch is made from polyester and comes in three designs: Heartless, Sora, and a pattern of Kingdom Hearts symbols The back side of the pouches are transparent and has dimensions of W250mm x D15mm x H195mm. Each pouch is scheduled for release in December 2018 and retails for 3,200 yen ($28.70 USD).
A Kingdom Hearts stained glass sticker set will be released by CafeReo retailing at 1,600 yen ($14.35 USD) and is scheduled to release in November 2018.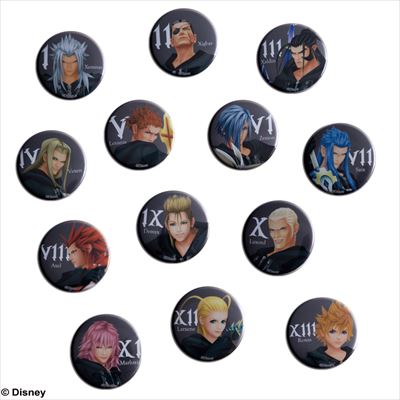 CafeReo has announced a blind box collection of Organization XIII badges. Each box comes with thirteen badges and has a retail price of 5,200 yen ($46.63 USD). Single badges from the blind box can also be purchased for 400 yen ($3.59 USD) and will be random. These badges are set to release in December 2018.
All items can be purchased from CafeReo's partner shops in Japan or hobby stores. Items will be released for pre-order from major online hobby retailers. Keep an eye out for updates on where to pre-order these items on KH13.com!