November has just ended, so it is time for another merch round up!

First of all, we have PDP Gaming's Kingdom Hearts Pixel Pals, announced one year ago and now available.on Amazon There is one for Sora, Donald, Goofy and Mickey.
 

Looking for a present to give to your soulmate or to a loved one who is a huge Kingdom Hearts fan? Bioworld is selling Kingdom Hearts hair ties, for $19.95, and charm bracelet, for $15.87, on their Amazon marketplace.
 

Hot Topic is also selling Kingdom Hearts Sora slippers, which looks perfect for your day off, when you can relax in Kingdom Hearts style. They are going for $29.90 and the available sizes range from XS to XL.
 

But what about a fresh new start in your everyday street outfit choice? Maybe Hot Topic has your answer again, as they are selling these Kingdom Hearts Sora Keyblade Hi-top sneakers for $39.90!

And the merch-train hasn't departed yet! Hot Topic is caring so much of your inner desire for showing up all your love for the saga that they are selling a Kingdom Hearts Dip Dye Girls Sweatshirt for $38.90 and a Nobody necklace for $8.90.
 

More into action figures and goodies for collection purposes? Here's your answer in case you missed it before, as Hot Topic's exclusive Toy Story Sora Funko Pop! is now in stock on Hot Topic's online store! The figure is available at the price of $12.50.
 
Hot Topic hasn't still run out of love for accessories, as they are now selling a Kingdom Hearts Sora Replica Crown Necklace for $8.90.

Are you looking for a backpack which puts together both your love for the Kingdom Hearts saga and the Lion King? You should definitely take a look at the Box Lunch Gifts store, as they have started to sell this stunningly beautiful backpack made by Loungefly for $59.90.
 


Still looking for some cool Kingom Hearts outfit? Guess who has your answer yet again! Hot Topic is selling a Kingdom Hearts Riku/Sora "The Door is Open" Girls T-Shirt. It is currently out of stock, but they might restock it soon!

Looking for some cool print to hang on your bedroom wall? Maybe GameStop will do for you, as they're selling a 16x8 Kingdom Hearts print for $14.99!
 

Are you bored of wearing the same Kingdom Hearts necklace everyday but still willing to show off your passion in any occasion? You might take a look at Hot Topic store, where they are selling a fancy Kingdom Hearts 12 Day Advent Interchangeable Necklace set for $29.90.
 

Trying to take a look at Sora's beautiful face even when brushing your hair in the morning? Then take a look at Hot Topic's Kingdom Hearts Sora hairbrush, which currently costs $8,90.
And last, but not least, about Hot Topic's merchandise, they are also selling a Kingdom Hearts Deep Dive Characters T-shirt for $20.90!
 

Wanting to keep your money safe in a Disney branded wallet without giving up on style? Then Box Lunch in Del Amo's Kingdom Hearts Safari 3PC Coin Bags is the right one for you, as they are selling it for $39.90!
 
Furthermore, EntEarth is taking preorders for a Kingdom Hearts Key Shaped Handle Ceramic Mug, perfect for your hot drinks as it comes with a gorgeous keyblade-shaped handle. The mug is priced at $13.99 and the estimated release is March 2019.
 

Target is selling a Kingdom Hearts Blanket & Pillow set, which is the best for everyone who's willing to decorate their own room (and bed) in a Kingdom Hearts style! The set comes at the price of $24.99.
 
Going back to GameStop, they are currently taking preorders for a Mickey & Donald PVC statue from Diamond Select Toys. The listed price is $49.99, and the release date is set for August 2, 2019.

Still trying to re-decorate your room in a Kingdom Hearts fancy? Then these floor rugs might be the exact furnish you were looking for; plus, you can actually choose between 10 different designs! Designed by CustomRugStudio, these floor rugs are now available on Etsy.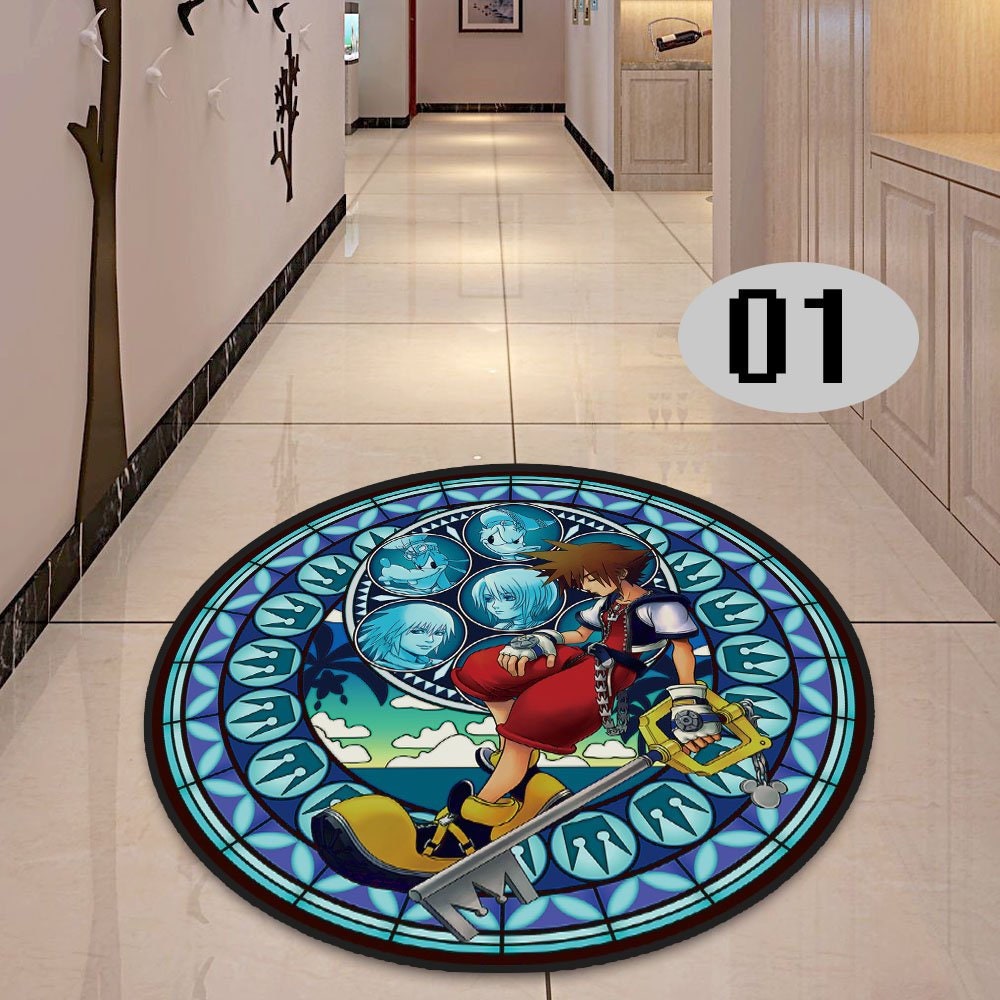 Have some of the listed merch caught your attention? If there is anything which you are actually considering buying, don't forget to let us know in the comment section below!