Content Count

19,043

Avg. Content Per Day

5

Joined

Last visited

Days Won

13
Other Information
Member Title

Student of Demonic Cultivation

Gender
About Me
CONGRATULATIONS!
You've clicked on my username and have arrived on my profile page! You might encounter a lot of gifs and images, so be warned!
About me:

My Animal Crossing: New Leaf Dream Address is: 4200-2624-8885
My PSN is PsychoMagi (Just tell me who you are for me to accept you)

Social media I'm on (that I'm willing to share):
-Tumblr
-Deviantart
-My Art Blog
-KH13 (Ta-da~)

Hello! I'm Stardust, a Puertorrican who moved to Texas. Attending college where I shall strive for a career in video game design and development and graphic design. I'm an avid artist, I'll pretty much try any type of art that you can show me. I absolutely love animals. I'll pet anything as long as it's not an insect or an arachnid of any kind. I do have a deviantart by the name of StarKittyTheArtist,and a personal blog. I also have an art blog where I do commissions if you're interested. If there's anything else you would like to know, don't be shy to ask!




But otherwise welcome and enjoy your stay!



Nicknames?
-Senpai
-Kitty
-Star (most common)
-Tez

Goals:
Get through college
Box a kangaroo
Cosplay as a Kingdom Hearts character. Visit Disney. Make references all day long.
Hug a Koala
World domination
Hug a Panda
Cosplay as Aladdin and have a magic battle to the death against Happy Potter
Meet certain people atleast once in my life (You know who you are)
Live in a tree house
Become a full-fleshed Mangaka
Visit countries while dressed as their respected Hetalia characters
Become a magi
Cosplay as Aladdin. Visit Hogwarts at Disney. Sing "we're going to see the wizard" solo or with a friend. Silently mutter "wrong magic school" when we get there.
Cosplay as Aladdin. Visit Magic Kingdom. Silently mutter "wrong kingdom of magic" when we get there.
What a beautiful world, no?



Index:
If it's in red it's something that I highly recommend in playing/watching/reading
If it's in blue I think it deserves another season
If it's in orange I was highly disappointed in the ending
If it's in turquoise I believe this deserves a remake

Series I've watched:
.hack//Legend of the Twilight
.hack//Roots

Ajin:

Demi-Human

Another

Attack on Titan

Bacanno!

Banana Fish

Beelzebub
Big O
Black Butler: Book of Circus
Bleach
Brave 10

Casshern Sins

Code Geass

D.Gray-Man
Dangan Ronpa

Darker

Than

Black

Deadman Wonderland

Death Note

Death

Parade

Digimon Data Squad
Digimon Fronteir
DRAMAtical Murder

Drif

ters

Durarara!
Eureka 7
Fooly Cooly
FullMetal Alchemist

FullMetal Alchemist:Brotherhood

Gankutsuou: The Count of Monte Cristo

Hamtaro (My first official anime that I've ever seen.)
Hellsing
Hetalia: Axis Powers
Hetalia: The Beautiful World
Hetalia: World Twinkle
HunterxHunter
Inuyasha
IS Infinite Stratos
Karneval
Katekyo Hitman Reborn
Kekkaishi
Kimi Ni Todoke
Magi: The Kingdom of Magic
Magi: The Labyrinth of Magic

No Dao Zu Shi (Grandmaster of Demonic Cultivation)

Mono

noke

Moribito: The Guardian of the Spirit

Mush

ishi

Naruto
Naruto Shippuden

No

.6

Panty and Stocking with Gartebelt
Pokemon

Psycho

-Pass

RAINBOW: The criminal seven of compound 6,cell 2 (Also known as "RAINBOW: Nisharokubou no shichinin)

RomeoXJuliet
Rosario + Vampire

Samurai 7

Shiki

Soul Eater

Sword Art Online (SAO)
Tegami Bachi (Letter Bee)
The Daily Lives of High School Boys

The Future Diary (Mirai Nikki)

Tiger &

Bunny

Tokyo Ghoul
Toward the Terra
Uta No Prince-Sama

Voltron:

Legendary Defenders

Wakfu:

The Animated Series

Watashi Ga Motenai No Wa Dou Kangaetemo Omaera ga Warui!

We still don't know the name of the flower we saw that day (Anohana)

Yu-Gi-Oh 5 D's
Zetsuen No Tempest: The Civilization Blaster (Blast of Tempest: The Civilization Blaster)
Manga I've read:
Attack On Titan

Banana Fish

Bleach
Blood Bank
D.Gray-Man

Fullmetal Alchemist

Katekyo Hitman Reborn

(Completely)

Killing Stalking

Magi: The Adventures of Sinbad (up to date)
Magi: The labyrinth of Magic (up to date)
Millennium Snow
Mononoke (Completely)

Noragami

Rosario + Vampire (Is collecting all of the manga)

Saint Young Men

Tegami Bachi (Letter Bee)
My favorite music/singers/bands are:
-Vocaloids
Other than that any music that has a good rhythm and that makes me want to dance. If it has a story within its lyrics,it's a plus.

Books I've read (not manga):
1984

Animals on the Edge
Animal Farm

Art of Armor

Assassin's Creed: Forsaken
Assassin's Creed: The Secret Crusade
Call of the Wild
Chicken Soup for the Girls Soul
Chicken Soup for the Teen Soul
Chicken Soup for the Teenage Soul: The Real Deal Challenges
Grimms Fairy Tails
Mice & Men
Odysseus
Spirits dark and light: Supernatural tales from the five civilized tribes
The Clockwork Three
The Great Gatsby
The Guardians: Nicholas St.North and the battle of the Nightmare King
The Poem of the Sid
The Story Of The Seagull And The Cat That Taught it How To Fly
List of things that don't exist but that I think should become reality:
POKEMON
A "The World" MMORPG we can play (aw yesh)
Magic
Werewolves
Vampires
Zombies (what? it'd be cool)
Hunter/Huntress schools/academies
Superpowers
Games I've played:
Animal Crossing
Animal Crossing: Happy Home Designer
Animal Crossing: New Leaf
Ao Oni
Assassin's Creed
Assassin's Creed 2
Assassin's Creed 3

Assassin's Creed 4: Black Flag

Assassin's Creed: Bloodlines
Assassin's Creed: Brotherhood
Assassin's Creed: Origins
Assassin's Creed: Revelations
Assassin's Creed: Rogue

Bioshock

Bioshock 2
Bioshock: Infinite
Bleach: Resurrection

Bloodborne

Call of Duty: Black Ops 2
Call of Duty: Modern Warfare 3
Calm Night
Cube Escape (Series)

Dark Souls

Dark Souls 2 : Scholars of the First Sin

Dark Souls 3

Dark Souls: Remastered
Destiny
Destiny 2
Detroit: Become Human

Dishonored

Dishonored 2

Do you Copy?
Dragon Age 2
Dragon Age: Inquisition
Dragon Age: Origins (+ DLCs)
DRAMAtical Murder
DRAMAtical Murder: Reconnect

Drawn to Life

Drawn to Life: The Next Chapter

Far Cry 4
Far Cry 5
Far Cry Primal
Final Fantasy VII: Crisis Core
Fleshchild
Flower
God Of War
Harvest Moon: The Lost Valley
Harvest Moon: Tree of Tranquility
Hello? Hell...o?
HetaOni

Horizon: Zero Dawn

Ib

Ico
It Moves
Journey
Kingdom Hearts 1.5 (KH: Final Mix & Kingdom Hearts: RE: Chain of Memories)
Kingdom Hearts: 2.5

Kingdom Hearts: 358/2 Days

Kingdom Hearts: Birth By Sleep
Kingdom Hearts: Chain of Memories
Kingdom Hearts: Dream Drop Distance
Kingdom Hearts: RE: Coded
Mad Father
Magician's Quest Mysterious Times
Mermaid Swamp
Misao

Monster Hunter World

Naruto Shippuden: Ultimate Ninja Storm Generations
Paranoiac
Phoenix Wright: Ace Attorney
Phoenix Wright: Ace Attorney - Justice for All
Phoenix Wright: Ace Attorney - Trials and Tribulations
Pokemon Battle Revolution
Pokemon Black
Pokemon Diamond
Pokemon Fire Red
Pokemon Mystery Dungeon: Blue Rescue Team
Pokemon Pearl
Pokemon Ranger
Pokemon Ranger: Guardian Signs
Pokemon X
Pokemon: Let's go, Eevee!
Princess Debut
Rune Factory: Tides of Destiny
Schuld
Seven Mysteries

Shadows of the Colossus

Story of Seasons
Tales of Graces F
Tamagotchi Connection Corner Shop 2
The Crooked Man
The Elder Scrolls IV: Oblivion
The Elder Scrolls V: Skyrim
The God of Crawling eyes
The Last Guardian
The Last of Us
The Mirror Lied
The Sandman
The Stoneville Mystery
The Witcher 3: Wild Hunt

The Witch's House

The World Ends With You

Titanfall 2
Tomb Raider
Uncharted 2: Among Thieves
Uncharted 3: Drake's Deception
Uncharted 4: A Thief's End
Uncharted: Drake's Fortune
Vorlorn
White Knight Chronicles (1 and 2)
Wii Fit
Wii Sports


My list of some of favorite quotes: (It can get a bit long, so in spoilers for convenience)
Video Games
HetaOni
"To the me who lives at some point in time and who isn't alone,
Once again, I made some mistakes, and also some progress. Meanwhile, I finally, but slowly, began to learn to rely on my friends. I was constantly afraid that everyone would blame me for dragging them into this, and that they would hate me, or be appalled at me, or get mad at me, and leave me...
But then I was told I had the wrong idea.
They were very mad at me. It hurt so much. Not that they hit me, but it really hurt.
I finally figured it out, but I can't pass this memory on to my next self.
Unfortunately, I'll lose my life yet again.
That's why I'm writing a letter.
Say thanks to England.
And tell them the truth. I'm sure they'll get mad, but it's not that they hate you or think you're a pain.
Why didn't you rely on your friends sooner? What are friends for?
That's what they told me, and that's what they're going to tell you too.
I'm sure I'll cry...and then...and then... Look around yourself" - North Italy's/Veneziano's/Feliciano Vargas' letter (Hetaoni)
"Fine! I'll run! I'll run ten laps! I'll run as many laps as you want! But I'll run away! And then Germany...will have to run... to catch me..." - North Italy/Veneziano/Feliciano Vargas (Hetaoni)
"How many times will I be allowed to make mistakes? How many more times will I have to tell the same lies? How many more times will I have to watch my friends die?" - North Italy/Veneziano/Feliciano Vargas
"I'm your last trophy, after all. You lost to the guy whose only redeeming feature is his fast feet." - North Italy/Veneziano/Feliciano Vargas
"What's wrong with swallowing my pride to save my brother?!" -South Italy/Romano/Lovino Vargas
"They can't hear me anymore, so I'll tell you in all honesty… I want to stay with them… Because they're both very important to me." - America/Alfred. F. Jones
"One by one… you erased each of my friends. And now I ask you…Why didn't you take me too…?" - North Italy/Veneziano/Feliciano Vargas
Destiny
Item Descriptions
"All matter is woven together in the same tapestry. Pull one thread and everything changes."
"Challenge every reality. There is always another way."
"Before the fight, prepare. In the fight, improvise. After the fight? Exaggerate."
"Become the monster."
"Constellations are an artifact of perspective."
"Go forth, wanderer. Enjoy the journey."
"Hope burns brightest among broken things."
"Your own mind must be your first conquest. Do not let it be your last."
"I can solve this. Give me a gun."
"No matter how far you travel, home is closer than you think." 
"Reality is a chorus. One voice can change the song."
"Where you come from is not important. It's for what you do that you will be remembered." 
"I foresee death, and we are it's author." 
"Millennia will pass, and your name will still ring out."
"There's a story about a serpent selling knowledge. The moral is: always be the serpent."
"If the road is easy the destination is worthless."
"You have chosen to explore the depths of the darkness. You better be able to run."
"Wanderer, your journey will end with victory."
The Speaker
"Devotion inspires bravery, bravery inspires sacrifice, sacrifice leads to death, so feel free to kill yourself."
"Travel far and travel wide, and know that you are always welcome home." 
"The Darkness is coming back. We will not survive it this time." 
"The Light lives in all places... In all things... You can block it... Even try to trap it... But the Light will always find its way." 
"Hope shall follow in the wake of your greatest deeds."
The Vanguard
"Where is your home? That is where you will fight the hardest." - Zavala
"You ever figure procrastination is your brain's way of stopping you from making a terrible mistake? Yeah, me too." - Cayde-6
 
Kingdom Hearts
"Got it memorized?" - Axel
"The closer you get to the light, the greater your shadow becomes." 
"You're you. We're not the same. I wanted to tell you that. That you deserve as much as I do to be your own person." Sora to Roxas 
"I see myself the way you remember me, and you see yourself the way I remember you." - Roxas
"Neither… or both. It's quite up to you. Once you believe, truth and lie are quite the same thing. Let your heart decide- it's in your heart you must confide" -Chesire Cat
"In your hand, take this key. So long as you have the makings, then through this simple act of taking.. its wielder you shall one day be. And you will find me, friend–no ocean will contain you then. No more borders around, or below, or above, so long as you champion the ones you love." - Terra 
 
Final Fantasy
"Continue living. You are proof that I existed. My dreams and pride, I give it all to you." Zack Fair to Cloud
"Wings symbolize freedom for those who have none." - Cissnei 
"Would you say, I became a hero?" - Zack Fair 
DRAMAtical Murder
"But you're not the only one shouldering something. Everyone is the same. Don't think you're some tragic protagonist." - Mink
"It's horrible. You feel the the noose tightening around your neck, but you can't find the motivation to do anything about it." - "Sly Blue" Aoba 
"Your most prominent trait is your lack of self-awareness." - Mink
Bioschock
"No Gods or kings. Only man." - Andrew Ryan (Bioshock)
"We all make choices, but in the end our choices make us." - Andrew Ryan (Bioshock)
"'Son… you're special. You were born to do great things.' And you know what? They were right." - Jack Ryan (Bioshock)
"Would you kindly?" - Atlas (Bioshock)
Other
"Don't wish it were easier, wish you were better." - Chief (Animal Crossing: New Leaf)
"I'll run.. You gonna chase me? You run.. Am I going to chase you? Change your perspective, and reality changes." - Preschooler (Pokemon: Black & White)
"Lets show them our hearts, and then show them theirs." (Dragon Age)
"Nothing is true. Everything is permitted." - Altair (Assassin's Creed)
"Only when we let strangers in, can we find new ways to be ourselves." - Joshua (The World Ends With You)
"Pick a god and pray." - Frederick (Fire Emblem Awakening) 
"The world ends with you. If you want to enjoy life, expand your world. You gotta push your horizons out as far as they'll go." - Hanekoma (The World Ends With You)
"To be alive, to walk this earth, that's the real curse right there." - Saulden (Dark Souls 2)
"We're made up of thousands of parts with thousands of functions all working in tandem to keep us alive. Yet if only one part of our imperfect machine fails, life fails. It makes one realize how fragile... how flawed we are..."- Ingun Black-Briar (The Elder Scrolls V: Skyrim)
"What is better -- to be born good, or to overcome your evil nature through great effort?" -Paarthurnax (The Elder Scrolls V: Skyrim)
"You ain't my partner anymore man, you're my friend." - Beat (The World Ends With You)
"We stand upon the precipice of change. The world fears the inevitable plummet into the abyss. Watch for that moment... and when it comes, do not hesitate to leap. It is only when you fall that you learn whether you can fly." - Flemeth (Dragon Age)
 
Voltaire
"Clever tyrants are never punished."
"Each player must accept the cards life deals him or her, but once they are in hand, he or she alone must decide how to play the cards in order to win the game."
"He was a great patriot, a humanitarian, a loyal friend; provided, of course, he really is dead."
"I have never made but one prayer to God, a very short one: ' O Lord make my enemies ridiculous'. And God granted it." 
"It is difficult to free fools from the chains they revere."
"It is forbidden to kill; therefore all murderers are punished unless they kill in large numbers and to the sound of trumpets."
"It is lamentable that to be a good patriot one must become the enemy of the rest of mankind." 
"It is vain for the coward to flee; death follows close behind; it is only by defying it that the brave escape."
"Prejudices are what fools use for reason."
"Those who make you believe in absurdities can make you commit atrocities."
"Tyrants have always some slight shade of virtue; they support the laws before destroying them."
"To the living we owe respect, but to the dead we owe only the truth." 
 
Anime
Magi: The Labyrinth of Magic
"Don't you think that if you keep lying, eventually no one, not even yourself, will be able to believe your own words?" - Aladdin 
"If a king brings nothing but suffering to the people, get rid of him." - Alibaba Saluja
Psycho-Pass
"When a man faces fear, his soul is tested. What he was born to seek... what he was born to achieve... his true nature will become clear." - Shougo Makishima
"When something impossible happens, there are only two possibilities. Either your assumptions are wrong, or you have gone crazy." - Shinya Kougami
"There's a limit to the amount of pleasure a person can obtain. But pleasure brought out by intellect is infinite." - Touma Kouzaburou
"It is not society that determines people's futures. It is people who determine society's future." - Akane Tsunemori 
"The law doesn't protect people. People protect the law. People have always detested evil and sought out a righteous way of living. Their feelings – the accumulation of those peoples feelings – are the law." - Akane Tsunemori
 
Other
"I see now that the circumstances of one's birth are irrelevant; it is what you do with the gift of life that determines who you are." - Mewtwo.
"The worst part about being strong is that no one ever asks if you're ok." - Accelerator (A Certain Magical Index)
"Those who call themselves 'ugly' don't realize that someone out there thinks they're the most beautiful person in their eyes." - France
Misc
Winnie The Pooh
"Forever isn't long at all, Christopher, as long as I'm with you."
"How lucky I am to have something that makes saying goodbye so hard."
"I think we dream so we don't have to be apart for so long. If we're in each other's dreams, we can be together all the time." 
"I used to believe in forever, but forever's too good to be true" 
"If ever there is tomorrow when we're not together… there is something you must always remember. You are braver than you believe, stronger than you seem, and smarter than you think. But the most important thing is, even if we're apart… I'll always be with you." 
"If you live to be a hundred, I want to live to be a hundred minus one day so I never have to live without you." 
Other/Unknown
"All knowledge is based on that which we cannot prove. Will you fight? Or will you perish like a dog?"
"Attack life. It's going to kill you anyways."
"Bury me shallow, I'll be back."
"Do I look like the kind of man who dies."
"Do you think god stays in heaven because he, too, lives in fear of what he's created?" - Spykids
"Don't let your loyalty become slavery."
"God may judge you but his sins outnumber your own."
"God wishes he were me."
"God's dead and soon we will be too."
"I am a monument to all your sins."
"I have been through hell and come out singing."
"I survived because the fire inside me burned brighter than the fire around me."
"I will face God and walk backwards into Hell."
"If the world chooses to become my enemy, I will fight just like I always have."
"Impudent of you to assume I will meet a mortal end."
"Kill one man, and you are a murderer. Kill millions of men, and you are a conqueror. Kill them all, and you are a god." - Jean Rostand
"Kill them all. Let God sort them out." - Arnaud Amalric
"May God have mercy on our enemies. Cause I won't."
"One day, you will be face to face with whatever saw fit to let you exist in the universe, and you will have to justify the space you've filled."
"Parents act so strong for us, that we sometimes forget just how fragile they are."
"People don't change. They reveal who they really are."
"Take this gift, for the gods surely won't."
"There's still work for us in Hell."
"This is hell's territory and I am beholden to no gods."
"To become god is the loneliest achievement of them all."
"Too many people have opinions on things they know nothing about. And the more ignorant they are, the more opinions they have."
"Violence for violence is the rule of beasts."
"We should feel sorrow, but not sink under its oppression."
"You kneel before my throne unaware that it was built on lies."
"There are many types of love in this world, Feliciano. Some are quiet, and comfortable, and smoulder softly. Some blaze brightly and fade fast. But some - and this is very rare - some burn forever. They change everything you ever thought you were, and at the same time, make you more and more yourself than you could ever be alone. Not everyone finds it. True, not everyone wants it. But if you do find it, or it finds you, the whole world changes, and you realize that the true purpose of your being was simply to have been in that person's life, and them in yours." -Austria (Auf Wiedersehen, Sweetheart By: George deValier, Chapter 16)
"War is nothing but hate. It makes men animals. But love keeps us human." (Auf Wiedersehen, Sweetheart)
WARNING: ENTERING SPOILER ZONE! The following list contains Gifs and images that might contain spoilers to certain series!

My top 5 console games that I've played and loved are:
1.Shadow of the Colossus

2.Kingdom Hearts: 358/2 Days
3. The Last Guardian

4. The Elder Scrolls IV: Oblivion

5. Bloodborne
My top favorite anime so far are...
1.Hetalia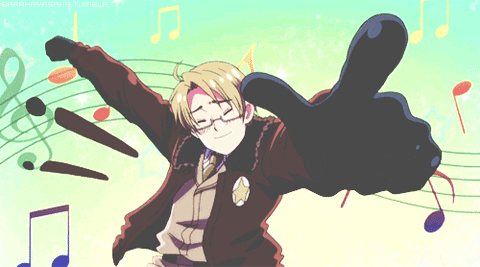 2.Gankutsuou: The Count of Monte Cristo

3.RAINBOW: Nisha rokubou no shichinin

4.Tiger & Bunny

5.Psycho-Pass



My current obsession is...Wakfu



My top favorite RPG maker game is...Hetaoni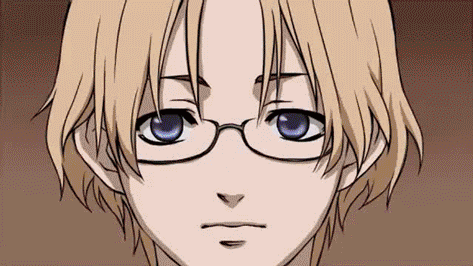 My favorite manga character is...Enma Kozato from Kayekyo Hitman Reborn



My favorite anime character is...Kotetsu from Tiger & Bunny



My favorite video game character of an RPG Maker game is...Garry from Ib



My favorite video game character in general is...Cole from the Dragon Age series.



Favorite villain from an animated series is...Qilby from Wakfu: The Animated Series

My favorite villain of all time is...Sato from Ajin: Demi-Human


My OTP (for the moment) is...Keith Kogane x Lance Mcclain from Voltron: Legendary Defender



Favorite characters appreciation time!

Yugo from Wakfu: The Animated Series



The Medicine Seller from Mononoke



Judar/Judal from Magi: The Labyrinth of Magic



Morgiana from Magi:The Labyrinth of Magic



Princess Amalia Sheran Sharm from Wakfu:The Animated Series



Spain/Antonio Fernandez Carriedo from Hetalia



South Italy/Romano/Lovino Vargas from Hetalia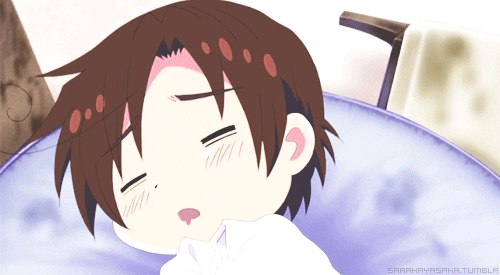 Lance Mcclain from Voltron: Legendary Defender


Character playlists!
Title: The Three Wanderers
Quote: "If only we could go back."
Character(s): Helios, Ariana & Ren
Origin: Overworld (RP)
Title: The Champion of Kirkwall
Quote: "Well...f*ck."
Character(s): Petra Hawke
Origin: Dragon Age 2
Title: The Hero of Ferelden
Quote: "They never let me leave the tower. Now I know why."
Character(s): Sybil Surana
Origin: Dragon Age: Origins
Title: The Inquisitor
Quote: "I never wanted this, but someone has to do it. If I don't, who will?"
Character(s): Avalon Adaar
Origin: Dragon Age: Inquisition
Title: The Shapeshifter
Quote: "It's all a matter of perspective."
Character(s): Helios Silverstrider
Origin: Overworld (RP)
Title: The Lightning Knight
Quote: "I'm only human after all."
Character(s): Arthur Gancelot
Origin: Overworld (RP)
Character Aesthetics & Links:
Helios Silverstrider
✔Verified Official RolePlayer
© Profile Original & Official
█║▌│