October is approaching its end and an abundance of Kingdom Hearts merchandise has been released over the course of this month!
Hot Topic has updated their site with a few new pieces of Kingdom Hearts merchandise! 
First up is a Kingdom Hearts Icon Grid Pajama Pants made up of 100% cotton. The pants design features a variety of Mickey Mouse heads, crowns, keys and hearts. It is available for $19.90.
Additionally from Hot Topic is a Kingdom Hearts III Watercolour Papou T-Shirt. It is made of 100% cotton and features the beautiful Kingdom Hearts III title screen art. Its price ranges from $22.90 to $26.90 depending on the size chosen. 
Lastly from Hot Topic is a Kingdom Hearts Sora Black and White Water Bottle. Weighing in at 16 oz, it features a flip top alongside a carrying handle with Sora in his Kingdom Hearts III attire. 
Target has released some rather unique merchandise as well.
First off is a Kingdom Hearts Collector's Box featuring an impressive number of items. A hat, pair of gloves, scarf, keychain and other merchandise come with this box. It is priced at $29.99 and seems to be low on stock so grab it while you can!
Target has also released a new Kingdom Hearts Wall Banner featuring Sora, Riku and King Mickey. Priced at $8.99, this "60 x 20" polyester banner is a steal for its incredible art!
Gamestop has revealed some new items as well with Kingdom Hearts Sora Slides being one of them. It is currently on sale for $0.97 with $9.97 being its base price so be sure to grab it soon if you're interested!
Formerly a Gamestop exclusive, but now being in shops in March 25th, 2020, is a Diamond Select Toys Maleficent Diorama Figure. This impressive figure is 11 inches tall and features Maleficent surrounded by Soldier heartless below her. 
Entertainment Earth has a plethora of new items announced as well. They have a Kingdom Hearts Mickey Mini Backpack priced at $75.00 and available for pre-order for its scheduled November 2019 release.
Next up is a Kingdom Hearts Mickey Key Crossbody Purse for $68.00 and is available for pre-order for its scheduled December 2019 release. 
Lastly of these three Mickey items is a Kingdom Hearts Mickey Card Holder priced at $20.00 and is available for pre-order for its scheduled November 2019 release.  
Our final featured product from Entertainment Earth this month is a Kingdom Hearts III Logo with Keyblade Pocket Watch. This remarkable item is now available for $22.99.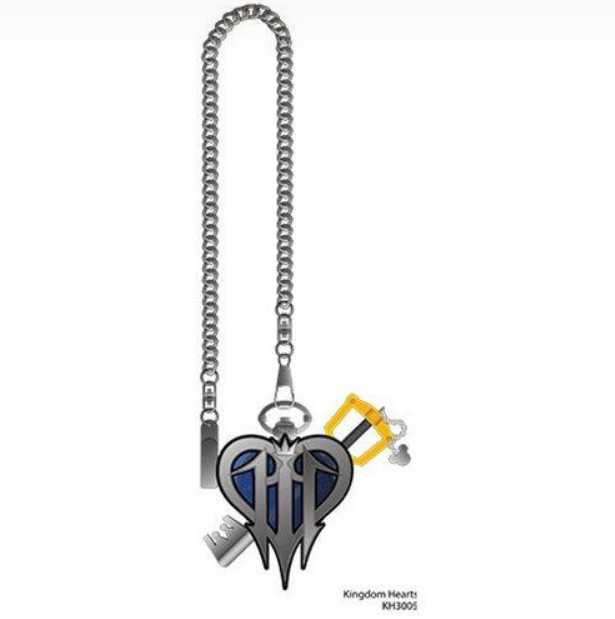 Spirit Halloween has released a polyester and plastic Sora and Necklace Glove Kit for $19.99. The necklace especially looks rather impressive!
Our final piece of merchandise for this packed month are Kingdom Hearts Crown Slipper Socks from Box Lunch. These stylish socks are 60% polyester, 40% acrylic and priced at $14.90.
 That does it for October's Kingdom Hearts merchandise round-up! Huge thanks to Churro for the constant and consistent alerting of all of this merchandise!
Are you planning on picking up any of these items and if so, which ones?