August has ended, and with that SixonClothing, Hot Topic, BoxLunchGifts, and PartyCity have updated their Kingdom Hearts merchandise!
First off SixonClothing has revealed their Aqua bikini swimsuit and their Organization XIII one-piece swimsuit! Both swimsuits are up for pre-order for $34.99!
They are available to pre-order here:
You can view these swimsuits in the galleries below!
Hot Topic is back with more merchandise this month!
First off is a Kingdom Hearts Plain O-Ring Skirtall in both regular and plus sizes! It's a white and plaid dress, with symbols from the series! The regular will cost $49.90 and the plus size will bring you to $52.90!
Next up, Hot Topic is selling a Kingdom Hearts Kairi a Sora wig! The red Kairi wig is on sale for $15.52 while the Sora wig is $19.92! You can view both wigs in our gallery below!
Lastly on the new merchandise from Hot Topic, the Kingdom Hearts Keyblade Collection Vol. 2 Blind Boxes are currently on sale for $10.32! It features the Kingdom Key D, Riku's Way to the Dawn,  Star Seeker, Wishing Lamp, Sweet Memories, and lastly Pumpkinhead!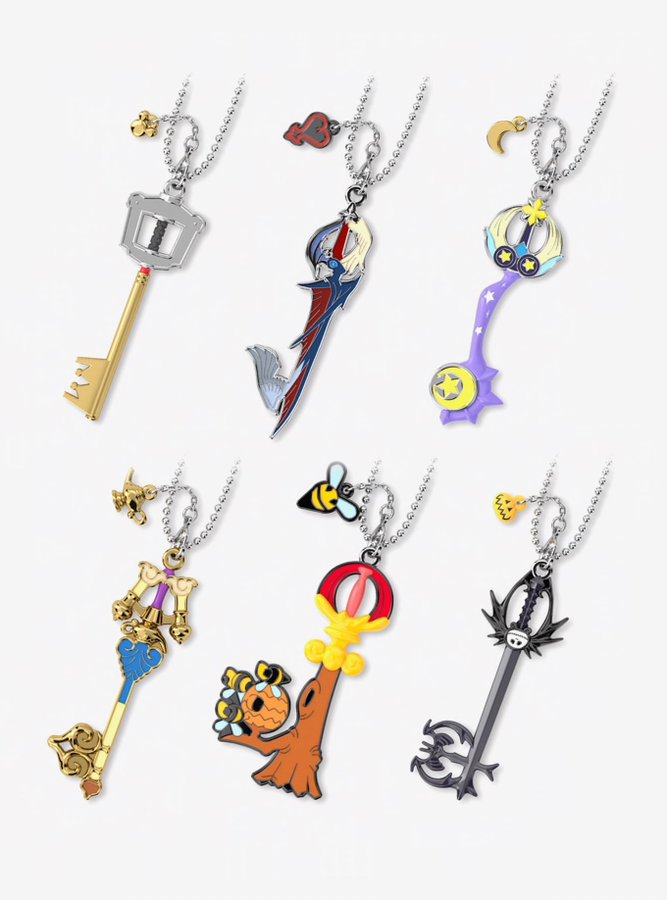 Next up on the list is Loungefly back with more enamel pins! Both the Sora, Donald, and Goofy pin and the King Mickey pin are on sale for $7.12! You can view both pins in the galleries below.
Lastly, PartyCity has updated their Kingdom Hearts costume section, which includes child costumes of the main trio of Kingdom Hearts III! A Sora and Riku wig are also available separately. The wigs are on sale for $24.99 while the costumes for Sora and Riku are $34.99 each. The Kairi Halloween costume is currently listed for $39.99!

The products are available to purchase here:
You can check out the gallery of all the costumes and wigs below!

This concludes KH13's monthly merch round-up! Thank you to Churro for all the tips! Does anyone have a favorite piece of merch from this monthly round-up? Follow us on Twitter, Facebook, and Tumblr for more news on Kingdom Hearts!