The Kingdom Hearts series recently celebrated its 15th anniversary with a bang, as renowned RPG developer Square Enix has paved the way to the series' long-awaited climax with a massive compilation. Released for Sony's PlayStation 4, Kingdom Hearts HD 1.5 + 2.5 ReMIX offers some of the best experiences that Kingdom Hearts has presented to date, and consists of the first six works in the series. For the uninitiated, these six titles are:
Kingdom Hearts Final Mix, an enhanced re-release of the original game

Kingdom Hearts Re:Chain of Memories, a console-oriented overhaul of the Game Boy Advance interquel

HD cutscenes of Kingdom Hearts 358/2 Days, the series' first Nintendo DS outing

Kingdom Hearts II Final Mix, an enhanced re-release of the second numbered entry

Kingdom Hearts Birth by Sleep Final Mix, an enhanced re-release of the series' prequel

HD cutscenes of Kingdom Hearts Re:coded, the series' second Nintendo DS outing

Kingdom Hearts HD 1.5 + 2.5 ReMIX presents something for every fan to enjoy. Whether you are a newcomer who has decided to jump into the series, a seasoned veteran who has been an avid follower since 2002, or anywhere in between, this collection is sure to contain something of interest to you.
When considering the perspective of newcomers, it's no secret that Kingdom Hearts has historically had a reputation for having a confusing plot, due in large part to having its titles spread thin across many platforms. However, in recent years, series director Tetsuya Nomura expressed his desire to remedy this stigma by releasing every Kingdom Hearts title on a single platform. Through both this collection and the recently-released Kingdom Hearts HD 2.8 Final Chapter Prologue, Nomura's wishes have been fulfilled; nearly every game in the series is available on the PlayStation 4, with the upcoming Kingdom Hearts III set to continue this trend.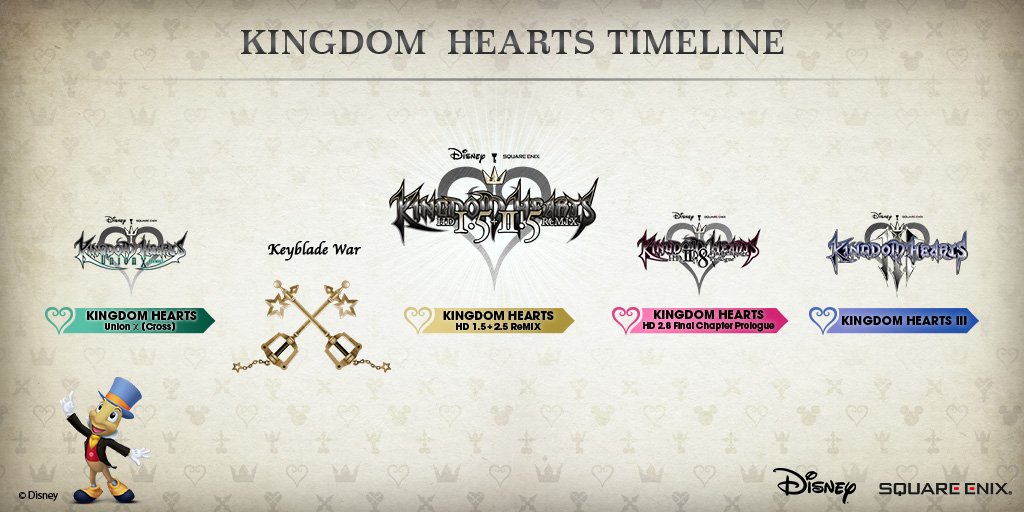 As seen above, the newest iteration of the Kingdom Hearts timeline features only four overall releases. The two aforementioned collections and Kingdom Hearts III all have a simple, numerically-ascending order which highlights the intended play order. Meanwhile, while the series' mobile installment, Kingdom Hearts Union χ[cross], is presented as being first in the timeline, it is meant to be played late into the series, as it relies heavily on knowledge learned throughout most of the other games. In summary, with just a PlayStation 4 and a smartphone or tablet, the entirety of the Kingdom Hearts series can be easily understood and enjoyed by newer fans!
For returning Kingdom Hearts diehards, Kingdom Hearts HD 1.5 + 2.5 ReMIX unfortunately offers little in the way of completely new experiences. While the Final Mix-exclusive additions and revamped HD cutscenes are carried over from the PlayStation 3 releases of Kingdom Hearts HD 1.5 ReMIX and Kingdom Hearts HD 2.5 ReMIX, there is no sign of any additional content which is exclusive to this PlayStation 4 release. Instead, much of the incentive for veterans to purchase this compilation comes in the form of technical improvements.
Kingdom Hearts speedrunner Bizkit047 outlines both the technical improvements and problems within Kingdom Hearts HD 1.5 + 2.5 ReMIX.
In the PlayStation 3 releases, load times were unusually long, and the included games all ran at 720p and 30 frames per second. In the PlayStation 4 version, by contrast, the load times have all but vanished, the resolution has been increased to 1080p, and the playable titles run at 60 frames per second, resulting in a clearer and more fluid image. The option to play at 4k resolution is even available to PlayStation 4 Pro owners, further increasing the collection's visual quality. Unfortunately, the framerate increase does not apply to any of the cutscenes present in the collection; this is only applicable to gameplay, as the cutscenes are strictly programmed to run at 30 frames per second.
While these improvements have been widely praised by players, the games are not without their own problems. Several players, including prominent speedrunners Bl00dyBizkitz and Bizkit047, have pointed out several glaring issues with the PlayStation 4 versions of each game. Several crashes and bugs which were present in the PlayStation 3 releases have been carried over, some new crashes have been reported, and the transition to 60 frames per second has introduced several inconsistencies regarding game physics and timings. Thankfully, Square Enix has already begun to roll out updates and patches to lessen or eliminate many of the offending issues.
Overall, while Kingdom Hearts HD 1.5 + 2.5 ReMIX is by no means a perfect product, and still has a great deal of technical hurdles to overcome, the collection provides an excellent starting point for new players, a large amount of nostalgia for returning players, and a great deal of improvement under-the-hood for those who seek a good-looking, smooth experience. If you've hesitated at the thought of playing the series, or simply want to experience the games in higher detail than ever before, Kingdom Hearts HD 1.5 + 2.5 ReMIX will not disappoint.