Kingdom Hearts HD 2.8 Final Chapter Prologue was recently featured in the previous issue of Jump Magazine, a Japanese magazine covering various video games. The feature can be seen below, in Japanese with new renders of Sora & Riku from Kingdom Hearts Dream Drop Distance HD. Thanks goes to @RedMakuzawa for the tip.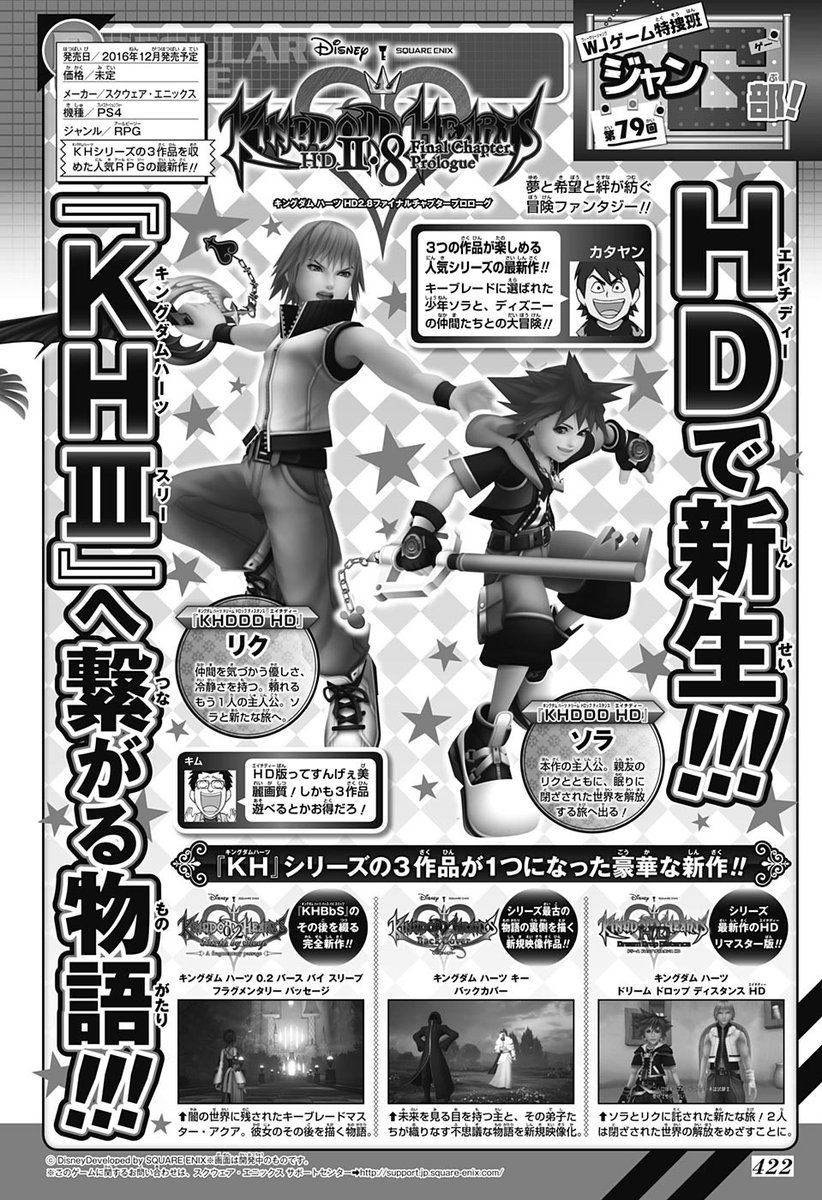 The content seems to be an overview of the title and expressing it's a lead to Kingdom Hearts III. We'll provide clearer translations as soon as they are available.
Update: Translations have been provided thanks to Goldpanner!
Release date: Scheduled for December 2016
Price: TBA
Maker: Square Enix
Console: PS4
Genre: RPG
Three popular-series Kingdom Hearts games in one new RPG title!
The Story That Leads Into KH3!!!
An adventure fantasy woven from dreams hopes and bonds!
"Three new titles to enjoy from this popular series!! Sora, a boy chosen by the Keyblade, and his Disney friends have a huge adventure!!
--Katayan
"The HD remastering makes for super beautiful image quality! Plus, being able to play three titles is a bargain!"
--Kimu
KHDDD HD Riku: Calm, cares for his friends. The reliable other protagonist. He heads on a new journey with Sora.
KHDDD HD Sora: The main character. Along with his best friend Riku, he sets out on a journey to free worlds which have been trapped in sleep!
A deluxe new three-in-one KH title!
KH 0.2 BBS Fragmentary Passage: A completely new title that tells the story of what happened after BBS! Keyblade Master Aqua was left in the Realm of Darkness. The story of what happened to her after that.
KH Key Back Cover: A new cinematic title that tells the behind-the-scenes story of the earliest story in the series! The strange story of a master who can see the future and his disciples told in a brand-new cinematic title.
KH DDD HD: The newest title in the series now remastered in HD!! Sora and Riku are on a new journey to free the worlds trapped in sleep.