The latest issue of Shonen Jump reveals new screenshots of Kingdom Hearts III with some more references on the Remi mini-game and selfie mode! Image below courtesy of @RedMakuzawa! Image translations done by KH13 News Staff @n_scribe13.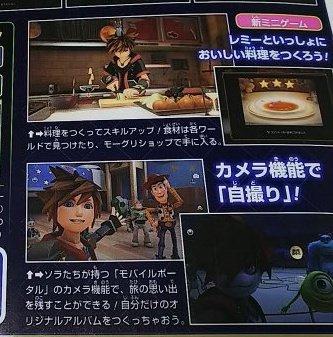 Quote

From the top right to bottom:

New Mini-game: Make delicious food with Remy!

Level up your cooking skills! Find the materials you need in each world or obtain them from the Moogle Shop. 

Take selfies using various features!

Sora, alongside his friends, can utilize features from their "mobile portal"  [Gummiphone] to preserve memories of their trip! With this you can create your own original album. 
Who are you looking forward to taking pictures with using selfie mode? Are you excited for the mini-game with Remi? Let us know your thoughts down below!