The Broken Boy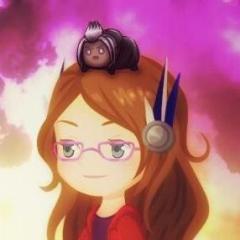 -
10 years ago, before the events of Kingdom Hearts 1, we follow three young warriors: Terra, Ventus, and Aqua. All follow their teachings of their mentor, Master Eraqus (pronounced AIR-UH-KISS) to become Keyblade Masters. Terra and Aqua take on the Mark of Mastery judged by Eraqus, as well as Master Xehanort (ZAY-UH-NORT). Suddenly, Eraqus learns that Master Xehanort disappears and was informed [by Master Yen Sid] of the rising manifestations of negativity called Unversed. Terra and Aqua were sent on a mission to investigate the mysteries of the Unversed and Master Xehanort's disappearance. Meanwhile, Ven is informed by a mysterious masked boy about Terra's upcoming fate and Ven goes after him before it's too late. All lead to a fate that effects the future events of this series.
--
Here we have Ven....who is the personification of a pure cinnamon roll who needs lots of hugs. I LOVE his character! Out of all the characters, his ark is far more fascinating. His ark, had the most affect on the future events of the series. Terra was the same and there was a plot twist that was pretty straight forward. Ven, however, had one of the most shocking twists. I will leave it at that and let you all discover that yourselves.
His character in general, I mentioned he is just a precious cinnamon roll. He is just a sweet sweet boy. What he went through, the trial and challenges, I feel like routing for him all the way in hopes he achieves his goals. He wants to make friends and help them in any way he can. In a way, he is somewhat similar to Sora. Speaking of Sora....
As for gameplay, if any of you are more comfortable playing as Sora and trying to expand in different characters, Ventus is a good start. He plays a lot like Sora in a way but is still his own style. Unlike Terra, Ventus is lighter and faster. I feel, out of the three, he is the most balanced. When you are reasonably leveled enough, there is an amazing boss battle that is so over the top and somewhat difficult, it is one of my absolute favorites battles in the series.
With that, I can't really think of anything else to say about this ark. Ven is such a good boy, there are some fascinating story elements, and the gameplay is just easier to handle.
[ARTIST NOTES]
As I mentioned before in my Terra post, I gave some common elements to each of the posters. This one was no different. I will give you a small notice on something interesting. The sunsets are colored with their own color pallet. For a better explanation, Terra's sunsets was more red and orange and Ventus is green and yellow.
I also want to add something, a small secret: there was one thing I messed up on....but I will not say what it is LOL I couldn't currently fix under some technical circumstances LOL
Ventus from Kingdom Hearts © Square Enix
Photo Information for The Broken Boy