June 10th, 2017 was a monumental day for the Kingdom Hearts community, due to the Kingdom Hearts Orchestra - World Tour - holding its first show in the United States on this date. According to many who attended this performance, this experience was "once in a lifetime", and as a fellow attendee, this particular sentiment is definitely shared by the writer of this article.
A surprise appearance by series director Tetsuya Nomura and the unveiling of a brand new Kingdom Hearts III trailer, the two largest contributors to fans' enthusiasm, served as the perfect conclusion to this event. This trailer captured fans' hearts and pushed the excitement for the game to never-before-seen heights, to the point where "Kingdom Hearts III" and "Sora" became trending topics on Twitter. Today, however, we would like to peel away the initial burst of emotion and analyze every aspect of this trailer, in order to find out as much as we can about both the gameplay and story developments of Kingdom Hearts III.
Throughout this trailer, the Kingdom Hearts Orchestra - World Tour - version of "Wave of Darkness" is played. Furthermore, if you happened to attend this orchestra event in-person on any of the dates that this trailer was shown, the song was played live by the orchestra!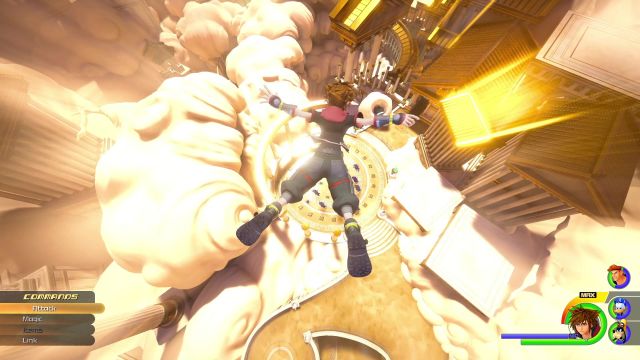 The trailer begins with a quote; "Don't assume your dreams are just fantasy. If you can imagine a world, believe in it...and dive in." The first gameplay segment thereafter is reminiscent of the Dive sections of Kingdom Hearts Dream Drop Distance. Sora, appearing in his new outfit, is falling toward Olympus Coliseum. As he is about to land, he uses an area of effect attack against the surrounding Heartless. This Dive-esque sequence seems to be seamlessly integrated into the overall world layout, considering that we saw Sora jumping from an alarmingly tall mountain in the E3 2015 trailer. However, considering the quote at the beginning of this trailer, this gameplay element may also be a way of entering each world.
Throughout the Olympus Coliseum portions of this trailer, the bottom right corner of the screen that a four-person party is available. In this instance, Sora, Donald, and Goofy are joined by Hercules. In previous Kingdom Hearts games, a three-person party was the standard, and the capability for guest characters was restricted to certain encounters and boss battles, but it seems to now be a regular feature.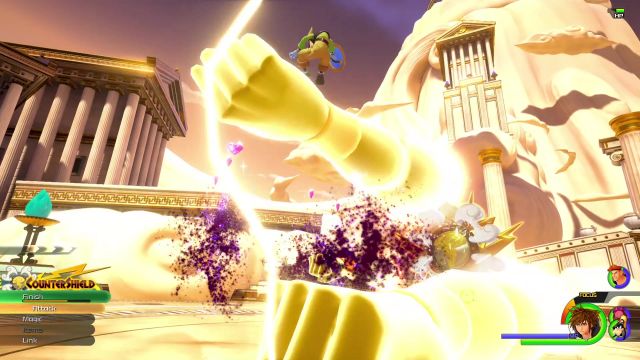 As we see Sora battling the aforementioned group of Heartless, a new command, "Counter Shield" appears above the command menu, in a style identical to that of Kingdom Hearts 0.2 Birth by Sleep -A fragmentary passage-. Activating this Style Change puts Sora into the Counter Shield Command Style, where his outfit becomes the new Guard Form (visually reminiscent of Kingdom Hearts II's Master Form) and his Keyblade takes the form of a shield. Counter Shield uses a large area-of-effect attack as it activates, uses shield bashes as its basic attacks, and can perform a flurry of punches with giant magical fists as a special attack. This is likely a combo finisher, as the "Finish" command is not used.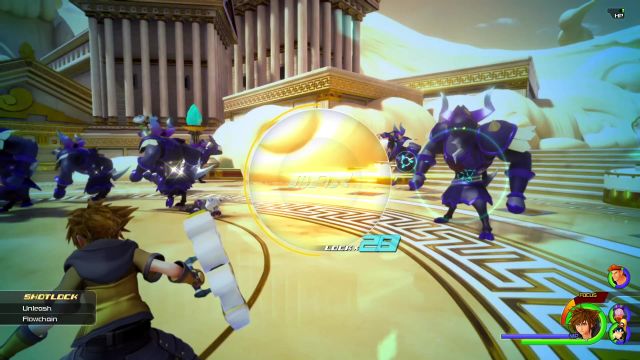 During this segment, we also get a glimpse at the fact that two Shotlock options will be available for each Command Style, referred to as Unleash and Flowchain. Unleash seems to be the traditional Shotlock variety, consisting of a powerful attack, while Flowchain appears to be the Flowmotion-esque Shotlock seen in the E3 2016 trailer. Counter Shield's particular Unleash Shotlock consists of Sora calling down a ball of energy from the sky, and once it impacts the shield, it unleashes a devastating shower of sparks as an area-of-effect attack.
In the following gameplay segment, we see Sora in another Command Style called "Second Form", which seems to be tied to the Kingdom Key, and is heavily based on Sora's older abilities seen in Kingdom Hearts and Kingdom Hearts II. Perhaps this is the successor to the much-beloved Limit Form from Kingdom Hearts II Final Mix? In this form, combo finishers such as Magnet Burst make a return, and some combo finishers seem to have a slightly more cinematic tone, as the camera zooms in a small amount when Sora uses Magnet Burst.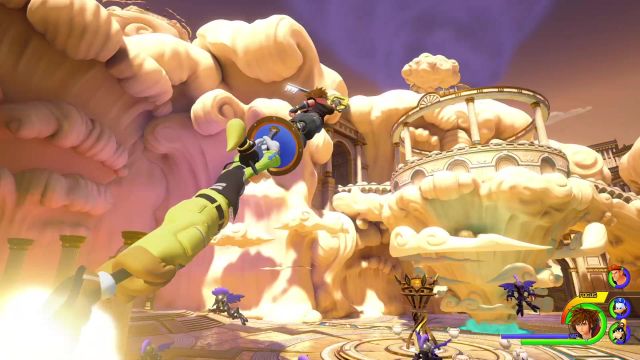 Returning to the default Kingdom Hearts III outfit, Sora and Goofy activate a Limit, during which Sora jumps onto Goofy's raised shield, the two launch like a rocket, and Sora throws Goofy into a swarm of Heartless below, dealing massive damage to each enemy in the impact radius.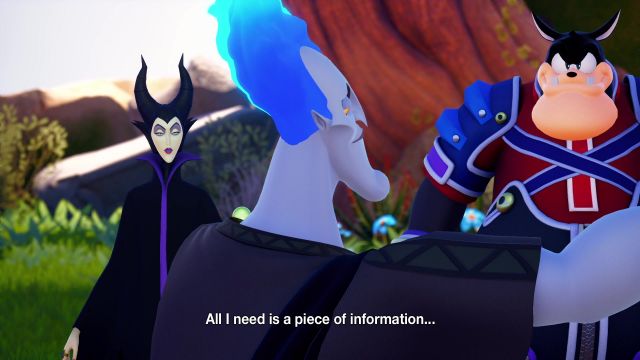 In the trailer's first story segment, Maleficent and Pete exit a corridor of darkness into Olympus Coliseum, with Pete greeting Hades menacingly. When Hades tries to make the duo leave, Maleficent says that she is merely looking for information, specifically the location of a distinctive black box. The scene ends before Hades can answer the question in detail. When taking into account the events of the secret ending to Kingdom Hearts χ[chi], Maleficent seems to have found Daybreak Town and has learned about the Master of Masters and the mysterious box he possessed in Kingdom Hearts χ Back Cover.
The next gameplay segment has often been described as immersive, tense, and gripping. Sora is seen running along a mountain path in the middle of a storm, preparing to confront the Rock Titan. The Titan hurls a boulder in Sora's direction, narrowly missing himdamaging the path in the process. This segment then concludes with Sora using magic against two groups of Heartless. This demonstration of magic continues into the next segment, with Firaga, Blizzaga, Thundaga, and Aeroga all being showcased.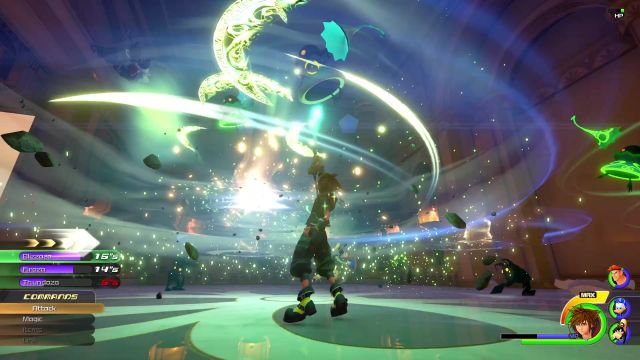 At this point, several different Situation Commands are available to Sora. These commands consist of level 4 magic, with the specific spells being Firaza, Blizzaza, Thundaza, and Aeroza. They appear to have decided to change the "-ja" suffix at the end of the level 4 spells from Kingdom Hearts 0.2 Birth by Sleep -A fragmentary passage- into a "-za" suffix for Kingdom Hearts III's tier 4 spells. Both the tier 4 spells of the Japanese versions of Kingdom Hearts 0.2 Birth by Sleep -A fragmentary passage- and Kingdom Hearts III translate to the same thing, so it's unknown why they decided to make the names different in the English versions of the two games. Counter Shield is also shown to have an ability reminiscent of Ventus' Faith command in Kingdom Hearts Birth by Sleep.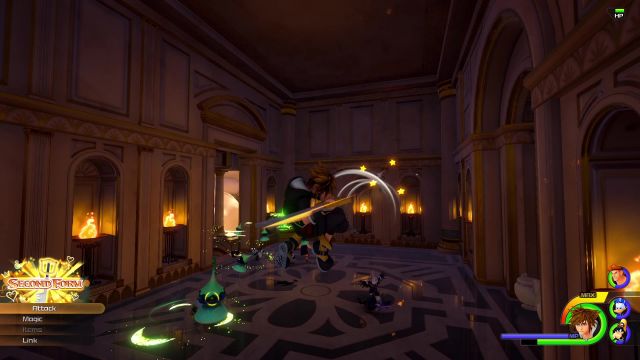 Next, the Kingdom Key's Style Change, "Second Form", is shown yet again. As mentioned previously, the abilities of this Command Style seem to draw from Kingdom Hearts II Final Mix's Limit Form, with abilities such as Stun Impact and an aerial version of Sonic Blade being used. However, it is worth noting that one of the melee combos seems to have entirely new animations, suggesting that this form may be a hybrid between old and new techniques. This segment concludes by showing a brief clip of Flowmotion, as Sora makes his way up a slope using a rail.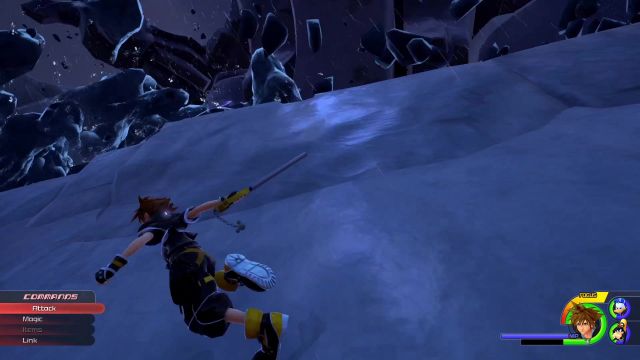 The following segment showcases the Rock Titan boss fight. Sora is shown running up a cliff, similar to a brief clip seen in the E3 2015 trailer. Sora is mostly kept from attacking the Rock Titan due to its stomps making the top of the cliff hazardous. However, with quick use of Flowmotion, a few melee attacks are possible.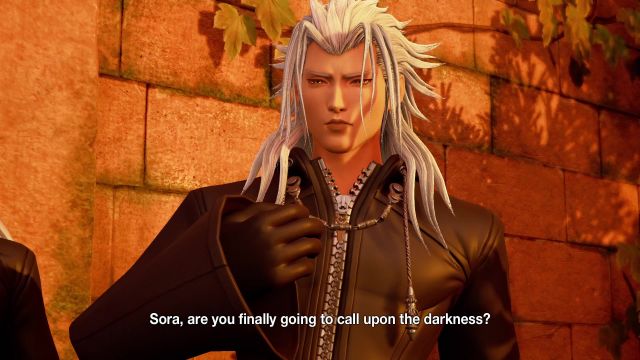 The trailer's final sequence shows Sora, Donald, and Goofy confronting Xemnas and Ansem, Seeker of Darkness near Twilight Town's mansion. Xemnas asks Sora how he expects to bring Roxas back when he should never have existed. The only way to accomplish this seemingly impossible task, according to Xemnas, is for Sora to call upon the darkness and presumably make himself vulnerable to Xehanort's schemes. While Donald and Goofy remain ready to fight, Sora's response is to drop his guard and assume a neutral yet confused stance. Could he be considering the option presented to him?
The trailer concludes with a note detailing that Kingdom Hearts III will appear at D23 Expo 2017 on July 15th, 2017, complete with a new world announcement and a new trailer. Additionally, given Tetsuya Nomura's comments at the orchestra concert on June 11th, 2017, there is a possibility that he will reveal the game's "final information" at this expo, in his own words.
Speaking entirely subjectively, I think that this trailer was absolutely incredible! The music complimented each scene flawlessly, and many scenes were very gripping in their own right! The inclusion of Second Form appeals to my borderline obsessive love for Limit Form, and that Dive sequence looks quite fun! Finally and perhaps most importantly to me, both of the story elements serve to only make me more excited to see the story unfold! I can't wait to see what Nomura will be revealing next month!
What was your favorite part of the trailer? Did you notice anything we missed in our analysis? Let us know in the comments below!