D23, the Official Disney Fan Club, have recently published the Winter 2018 issue of their Disney Twenty Three magazine. Therein is a special Kingdom Hearts III feature, including enlightening comments by director Tetsuya Nomura, as well as the Disney and Pixar representatives who have worked with Square Enix on the game! The magazine is exclusive to D23 Gold Members.
Fansite Kingdom Hearts Destiny have published the feature in its entirety in French on their website. Thanks to this, we have paraphrased the interesting comments around the production of the new Disney and Pixar worlds in Kingdom Hearts III. You can read them below.
Jason Katz, Story Supervisor at Pixar Animation Studios, had never played a Kingdom Hearts game when he was first approached to work with Square Enix on Kingdom Hearts III. It was Tasha Sounart (Associate Creative Director for Disney Theme Parks and now Kingdom Hearts III consultant) who introduced it to him.

Katz didn't comprehend the popularity of the series when he first worked on it - this was until he saw the fans' extreme reactions of appreciation at KH3's D23 Expo 2017 presentation.
The feature also recalled series director Tetsuya Nomura's comment about how it has been his heartfelt wish for a long time to have Pixar worlds in Kingdom Hearts.

Katz said that the collaboration between Square Enix and Pixar went wonderfully, and that Square Enix perfectly delivered Pixar's stories. He said that Pixar nudged them in the right direction and guided them where appropriate.

Sounart said that Pixar were involved at every stage: scripts; storyboards, scenes, and character design. She is proud of the collaboration and commented, "You have never seen Pixar like this."

As the heart of Toy Story is Nostalgia, Katz said that they were really interested in the Square Enix development team sharing with them the memories of their childhood toys.

In regards to the Infinity Badge Keyblade, this was also a collaboration between Pixar and Square Enix to capture the essence of the Toy Story movies. Sounart explained that they really wanted to reflect Buzz and Woody in the design, describing how items like the sheriff badge and rocket form a perfect design. One thing the Pixar team wanted from the beginning was the alien toy as the Keyring.
The Pixar team thought meticulously about where the Kingdom Hearts III arc would canonically fit into the Toy Story timeline to ensure continuity. A question they had to answer to fans and to themselves was, "Why did no Toy Story character mention Sora's encounter in the movies?" Katz went as far as to have many exchanges where he stressed the importance of the two types of wallpaper you can see in Andy's Room in the series: the cloud wallpaper in his old house in the first movie, and the stars wallpaper in his new room after his family moves into their new home. As Kingdom Hearts III takes place between Toy Story 2 and Toy Story 3 while Andy is still young (although it was originally meant to take place right after the first movie before that idea was scrapped), Katz said the stars wallpaper in the game was non-negotiable: "It's nerdy, but it's very important for us."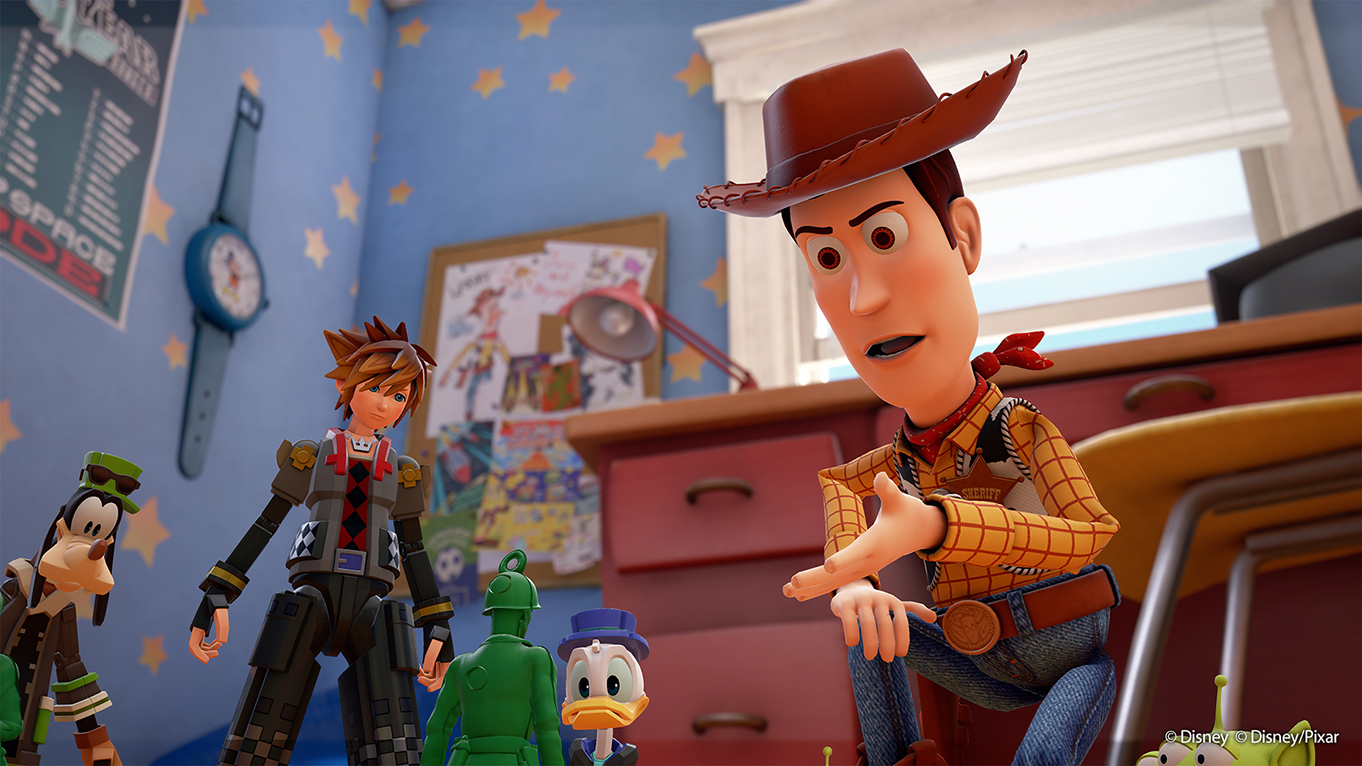 Pixar is known to include many Easter Eggs in their movies, and Kingdom Hearts III is no exception. Sounart said, "Keep an eye on the Pizza Planet truck!"
In regards to Monsters, Inc., Sounart said that most monsters do not have a nose, so Sora in his monster design, doesn't either. Sully is one of the few monsters to have a nose.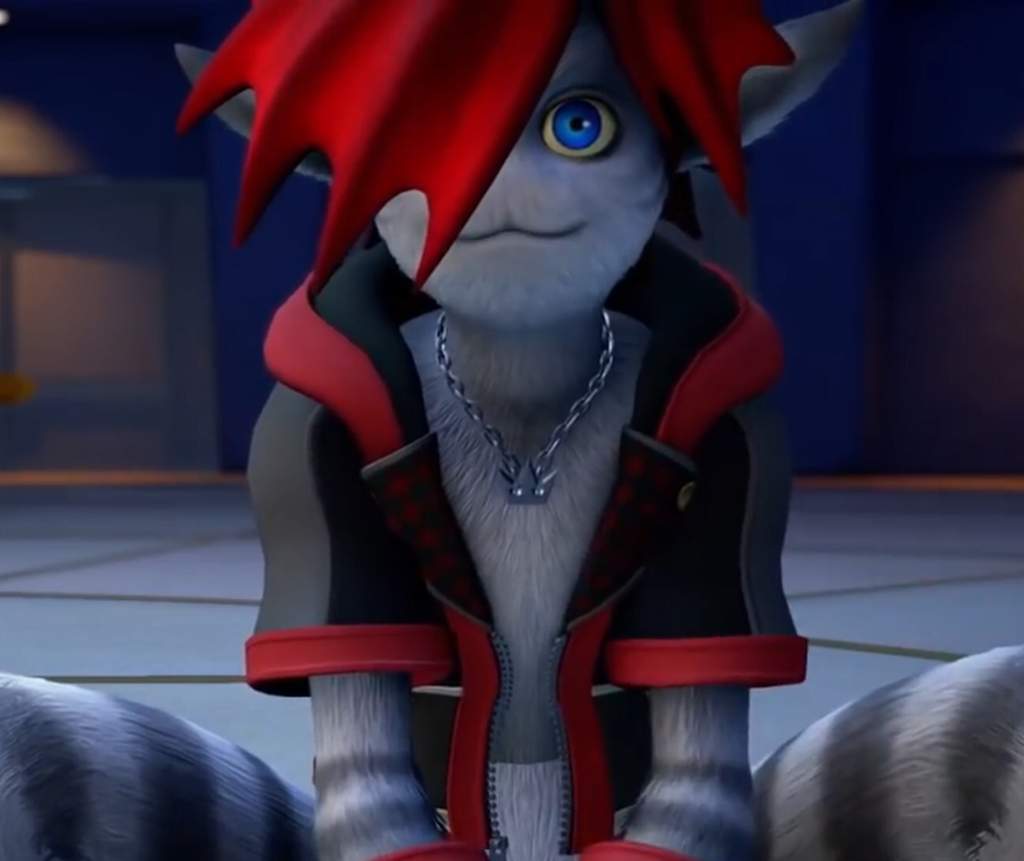 There were many other details to consider, such as how would Sora, Donald, and Goofy's clothes be incorporated into the world. Their final designs was another perfect amalgamation between Kingdom Hearts and Monsters, Inc..
Unlike Toy Box with Galaxy Toys, the Kingdom Hearts III world of Monstropolis showcases a location from the movies, the Monsters, Inc. factory. Katz pointed out that in the movies, we really only see the floor dedicated to fear, the hall of doors, and the main entrance. In Kingdom Hearts III, there will be an opportunity to see what the lower level looks like and what is behind the door hangar.
Peter Del Vecho, producer of Frozen, said that due to the movie's popularity and huge fanbase, it was only natural for it to meet Kingdom Hearts.

Del Vecho said that Square Enix did not only want to make a great game, but they also wanted to make Pixar proud of it.

Square Enix was determined to adapt the Disney phenomenon that is Frozen into a Kingdom Hearts world from the very beginning. Del Vecho was impressed in their desire to get fully immersed in the process with supervising animations, editing, and even camera movements. Del Vecho's team was amazed at their correspondence in regards to the animation.
Del Vecho said that there are many Frozen fans that wanted to continue the adventure in the movies, and now they will have the opportunity to take it home with them and create their own story.

As Elsa interacts with Kingdom Hearts III characters that were not in the movie during her emotional journey, Del Vecho would like fans to thus take part in a new storyline by playing Kingdom Hearts III.
Katz said that the more he lives the Kingdom Hearts franchise, the more he appreciates how fans have welcomed its characters. Because of this, he feels lucky to be able to bring Kingdom Hearts III's art to life. He finds it incredible that he got to play a small role in a series that so many people have been playing their whole life.

A similar feeling about Kingdom Hearts' longevity is shared by Nomura himself, who commented, "I feel the love of Kingdom Hearts fans. But, over time, I gained the impression that more and more members of the team were fans of Kingdom Hearts before even joining the team. It's wonderful to know that we have people who loved the series [from before] on the development team."
The feature concludes by remarking that as Kingdom Hearts' fan base is so important that even the creators are fans, it must be something special, and that, ultimately, that is the same message shared by the Disney stories; as per Nomura's words, there is "a kindness in these Disney stories that resonates with everyone. " 
You can read more statements made by Tasha Sounart and Jason Katz on working on Kingdom Hearts III here.