The cover for the western release of Kingdom Hearts III: The Novel Vol. 1: ReStart!! has been revealed on Amazon.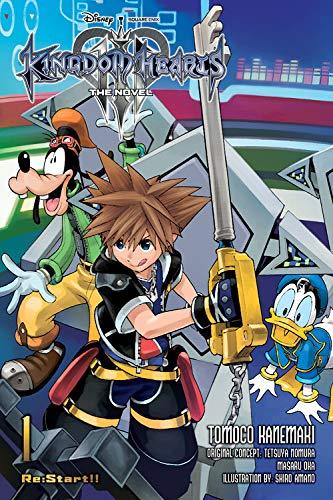 Quote

"After losing his strength in the Mark of Mastery exam, Sora sets out on another quest with Donald and Goofy to find the Power of Waking before the final clash with Master Xehanort. Meanwhile, Riku journeys into the realm of darkness to find Aqua, beginning the search for the rest of the seven guardians of light, and Kairi and Lea continue their training. The final chapter of the Dark Seeker Saga is about to begin!"
Yen Press will be handling the western adaptation of the novel, which will be available on February 18th digitally and February 25th for paperback. The novel will cost $7.99 for digital and $14.00/$18.50 CAN for paperback.
You can pre-order the digital version from Amazon, iBooks, and Kobo or as a paperback from AAA Anime, Amazon, Barnes & Noble, Books-A-Million, Indigo, Indiebound, and RightStuf. 
Re:Start was announced back in August to being localized by Yen Press after being released in Japan back in March. Vol. 2: New Seven Hearts has been released on Square Enix E-Store back in July. A western localization for Vol.2 has yet to be announced.
Will you be adding this to your light novel collection? Let us know in the comments below!