Famitsu updated their website with three new screenshots from Kingdom Hearts HD 2.8 Final Chapter Prologue. These screenshots serve as a teaser for the upcoming December 29th issue of Famitsu, which will release on December 15. They can be viewed below.
We can see Sora fighting in Kingdom Hearts HD Dream Drop Distance. There is a new Nightmare Dream Eater on a skateboard; this looks like a Zolephant, except for the different coloring and a black helmet with wings. Famitsu teases by claiming that it looks familiar; in fact, the new monster seems to be a reference to the character of Beat from The World Ends With You. The reference is detailed in the spoiler box below.
Thanks to Exilra, a member of our Kingdom Hearts χ Team and TWEWY enthusiast, we know that Beat becomes a reaper during the second week in the game. The new Dream Eater has the iconic Reaper wings on its head. Also, it is riding a skateboard just like Beat's, with a black top and orange wheels. You can view pictures of Beat below for reference.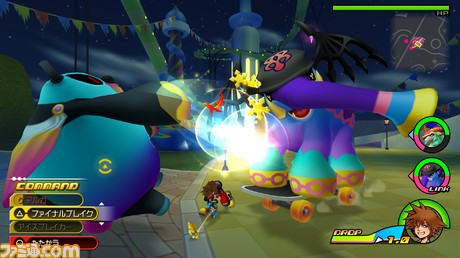 This is not the only new Dream Eater to be present in the HD PS4 remake of the 3DS game. Previously, another Dream Eater called Catanuki was revealed to have been added to the game by the Osaka production team. This is also not the first time a Dream Eater has been modelled after a TWEWY character: the spirit Sudo Neku is in fact inspired by Neku Sakuraba.
We also see Aqua and Mickey fighting side by side in Kingdom Hearts 0.2 Birth by Sleep -A Fragmentary Passage-, ready to perform the finishing attack for the Wayfinder Command Style.
And finally, the hooded figure with the mysterious Keyblade from Kingdom Hearts χ Back Cover also makes an appearance. Famitsu details that this is the Master of Master's sixth apprentice, Luxu, quoting his Master: "May your hearts be your guiding key." (Thanks to Keytotruth for the translation.) The Keyblade seems to be the same as Master Xehanort's Keyblade. Famitsu also teases that a new CG picture of Ephemera might be available in their next issue, as they encourage readers to check the picture below as well as "Ephemera's new CG" picture as well.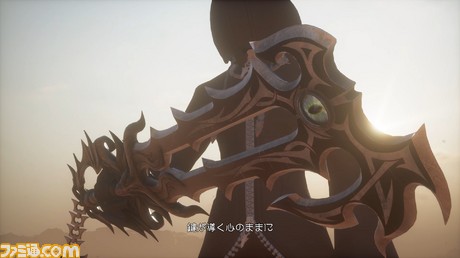 Kingdom Hearts HD 2.8 Final Chapter Prologue releases on the PlayStation 4 in Japan on January 12, 2017, and worldwide on January 24, 2017.