Kingdom Hearts III has received the Platinum Prize at the PlayStation Awards 2019 for selling an accumulated shipment quantity (including download quantity) of over 1 million copies in Japan and Asian regions! The award was presented by Jim Ryan, President and CEO of Sony Interactive Entertainment, and received by the series' former exectuive producer Shinji Hashimoto and current executive producer Ichiro Hazama. During the ceremony, the PlayStation Awards band also played a short, custom arrangement of Chikai, Kingdom Hearts III's theme song!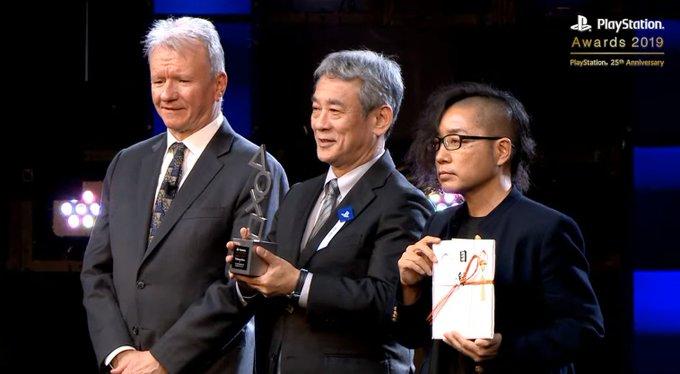 Hashimoto thanked fans for their support and was excited to celebrate this big win on the 25th anniversary of PlayStation. He said:
Quote

Normally, it is the director Nomura and the Osaka team that should be present here, but since they are hard at work on finishing the Kingdom Hearts III Re Mind DLC, right now they... couldn't find the free time to come, so myself and Hazama have come instead.
Translations are courtesy of KH13 News Translator Ryuji.
The other winners of the Platinum Prize were NieR: Automata, God of War, Marvel's Spider Man, and Red Dead Redemption 2.
Previously, Kingdom Hearts II won a Platinum Prize in 2006 and Kingdom Hearts: Birth by Sleep received the Gold Prize for selling over 500,000 units in Japan in 2010. They were featured in today's awards show as a nod back to past winners.
You can catch up on the PlayStation Awards 2019 awards show on PlayStation's here.
PlayStation Awards is a ceremony recognizing hit game titles sold in PlayStation format. The PlayStation Awards have been held every year since the inception of PlayStation in 1994, with this year marking both the 25th Awards and the 25th anniversary of PlayStation. This year's awards show took place at the Grand Prince Hotel New Takanawa in Tokyo, Japan.
You can watch the clip of Kingdom Hearts III winning the award below!
PlayStation also celebrated Kingdom Hearts III winning with a heart shaped Chirashi Sushi with small Keyblades, hearts, and crowns surrounding it!