This has certainly been a hectic week, huh? From the reveal of Sora joining Super Smash Bros. Ultimate as its final DLC fighter to the trailer dropping for the Kingdom Hearts 20th anniversary next year, there is an unprecedented degree of content for fans to look forward to.
However, it's easy to have forgotten or passed by the intricacies of all the news due to everything that was announced. Therefore, we have compiled and detailed every bit of information fans should be aware of from this week.
Sora Joining Super Smash Bros. Ultimate 
So, first thing's first; Sora's inclusion as the final DLC fighter for Super Smash Bros. Ultimate. This is obviously the most significant fraction of news, and every fan is undoubtedly aware of it by now. Still, for those who haven't yet dived into the specifics, let's break down his fighting style, the content arriving with his inclusion, his release date, and more.
Before discussing Sora's moveset, Sakurai revealed that Sora was the top requested fighter from the fighter ballot for Super Smash Bros. for Nintendo 3DS and Wii U. After talking to former Nintendo President Satoru Iwata, though, they decided not to disclose these results to the public to avoid needless harassment aimed towards the involved developmental parties. 
Thankfully, Sora has managed to make his way into the series regardless, even if it was a game later. Sakurai repeatedly emphasized that immense cooperation was needed to make this impossibility occur, which genuinely is a miracle. Further, Sora's Japanese and English voices will be implemented during release.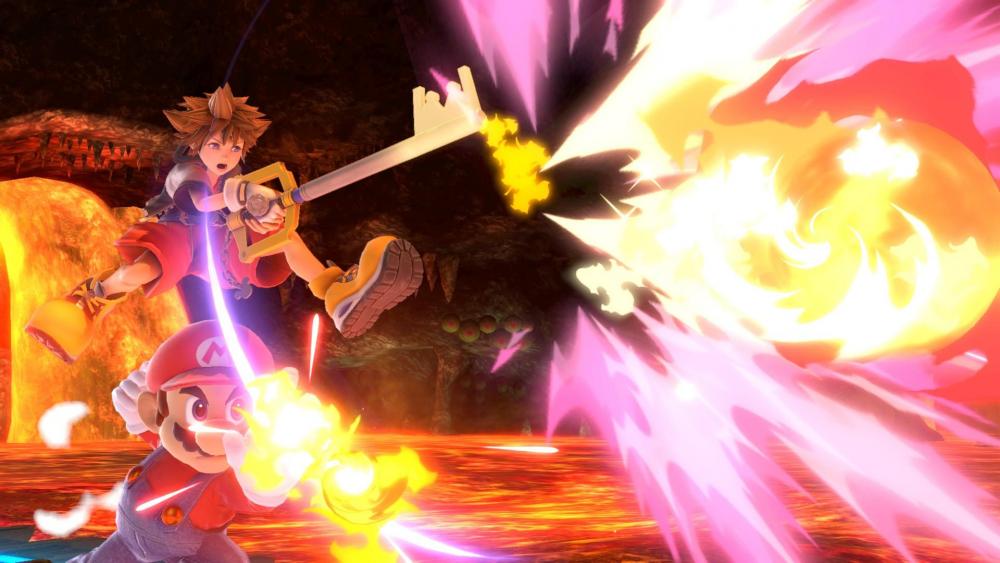 Sora's introduction trailer misled at least most of us, I think. It begins where the Super Smash Bros. Ultimate first started, the stage of indescribable darkness with the series logo hanging in the sky with every character present. However, the fire burning from the logo quickly burns out, leading to a single flame remaining on the ground. Afterward, each of the characters reverts to their statue forms, devoid of life. 
Though perhaps invigorated with life by the remaining flame, Mario steps off his statue stand and walks toward the remaining light. After some notable hesitation, he shoves his arm into the fire and throws what seems to be an enkindled blade into the air. Suddenly, the flames vanish, and the identity of the blade becomes apparent; the Keyblade.
It shoots out a beam of light, causing an enormous keyhole to appear. As Simple and Clean Orchestral begins to play, Sora slowly arrives in a familiar sleeping posture before opening his eyes. The rest of the Super Smash Bros. Ultimate cast finally regains their life, their statue forms dissipating. They each turn back and gaze at the figure engulfed by this shining light.
Sora, now awake, begins to soar through the air in delight as each character stares in wonder. Finally, Sora lands on his feet, and after summoning the Kingdom Key, Sora is Finally Here! appears on the screen.
It was a truly magical trailer that perfectly encapsulates how when Sora sees the heart in something; it becomes real. 
As a playable character, Sora was designed to be approachable and easy to play as, unlike other DLC members of the roster who require exceptional dedication to use feasibly. He is an airborne and, community memes aside, floaty fighter. Additionally, his weight is among the lowest of the playable cast, being lighter than even the likes of Isabelle and Young Link.
When it comes to cosmetic alterations, Sora can change into various outfits representing different Kingdom Hearts games. However, it is only his attire that alters, not his actual character model. This means that this is still the original Kingdom Hearts version of Sora wearing these outfits. Moreover, aside from main outfits from several of the Kingdom Hearts games being present, specific forms have also made their way into the title.
Sora's 8 costumes are listed in their respective P1-P8 order below:
The original Kingdom Hearts design
Kingdom Hearts II main outfit
Kingdom Hearts Dream Drop Distance design
Kingdom Hearts III main outfit
Kingdom Hearts II Timeless River design (Has dedicated facial expressions)
Kingdom Hearts II Valor Form
Kingdom Hearts II Wisdom Form
Kingdom Hearts III Ultimate Form
The outfits from P1-P4 have wonderfully recreated artwork of Sora from the respective games. In addition, there are also 5 Spirits reflective of the designs from P1-P5.
The Wisdom Form outfit has the Recusant's Sigil on its chest from the Dream Drop Distance design because P7 is an alternate skin of P3. So, while not a pure representation of Wisdom Form, the point comes across, and this can also be seen as a new take on the design, even if that wasn't the intended case.
You can view each of Sora's official renders across his 8 outfits in Super Smash Bros. Ultimate via our gallery below:
Generally speaking, Sora's moveset is pulled from how he plays as from Kingdom Hearts. For example, his standard 3-hit combo has several variations depending on how long the attack button is held, and the swings are reminiscent of his swordplay in the games themselves. Some abilities from the source material have arrived, too, like Hurricane Blast being Sora's down-air, Sonic Blade being his side-special, and Counterattack being his down-special. 
Magic is Sora's netural special, and it cycles through Firaga, Thundaga, and Blizzaga in that order when used. Each spell has neat unique effects dependent on situational contexts, so there is an undeniably deep mental game players will have to be cognizant of on the fly.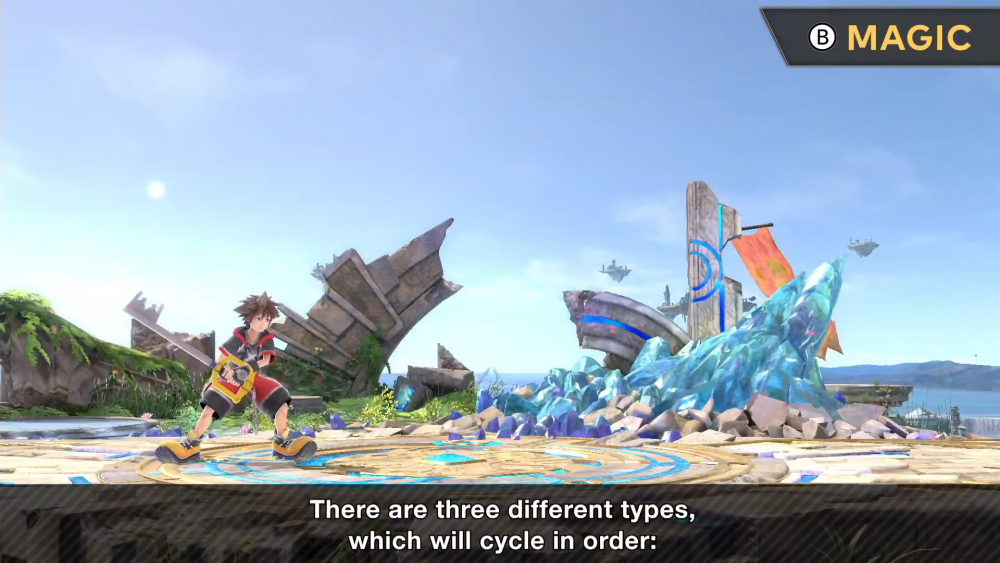 Speaking of cycles, Sora's taunts also do just that. While not providing any beneficial effects, Sora's taunt cycles through castings of Stopga, Aeroga, and Curaga. Personally speaking, I find this to be a terrific way to feature some of the spells that didn't make their way into the moveset proper. Pay respects to Graviga, though.
Due to how he excels in the air, Sora's edge guarding game is top-notch, boasting ludicrously adept recovery. Even though his weight is relatively light and his attacks are stated to be moderate in speed, it's clear that this iteration of Sora can more than hold his own.
In the presentation, Sakurai forgot to detail Sora's dash and dash attack, leading him to briefly tweeting about them afterward.
The stage that arrives with Sora is the beloved Hollow Bastion, specifically its original Kingdom Hearts version, which makes sense given how Sora's default design and his abilities are based on the franchise's first entry. Combatants stand on a moving platform that begins from Rising Falls before soaring and giving players detailed views of this lovingly recreated world.
Additionally, when players are on their last stocks or when the match is running low on time, the stage transforms and becomes a Dive to the Heart station that depicts the imagery of a character's heart.
The Dive to the Heart stations that can appear are as follows:
Sora
Riku
Roxas
Xion
Terra
Ventus
Aqua
Official screenshots of the Hollow Bastion + Dive to the Heart stage can be viewed via our gallery below:
Oddly enough, even though Sakurai stated earlier in the presentation that he will forgo the details of Sora's Final Smash, wanting us to see for ourselves, and only providing the name, "Sealing the Keyhole," he then showed it in the middle of Sora's real-time combat demonstration.
"Sealing the Keyhole" consists of literally sealing opponents within a keyhole and then within a door emblazoned with the iconic Super Smash Bros. logo. Afterward, Sora performs the keyhole sealing maneuver from the original Kingdom Hearts before the door explodes, severely damaging its occupants. It's a novel original Final Smash that captures the essence of Sora's tasked actions throughout the first game.
Moreover, as revealed during the end of this combat showcase, when Sora defeats a foe at the end of a Stamina Battle, the game slows down, referencing the same effect that occurred when prevailing in key battles in the original Kingdom Hearts.
Sora has 2 victory poses as shown below: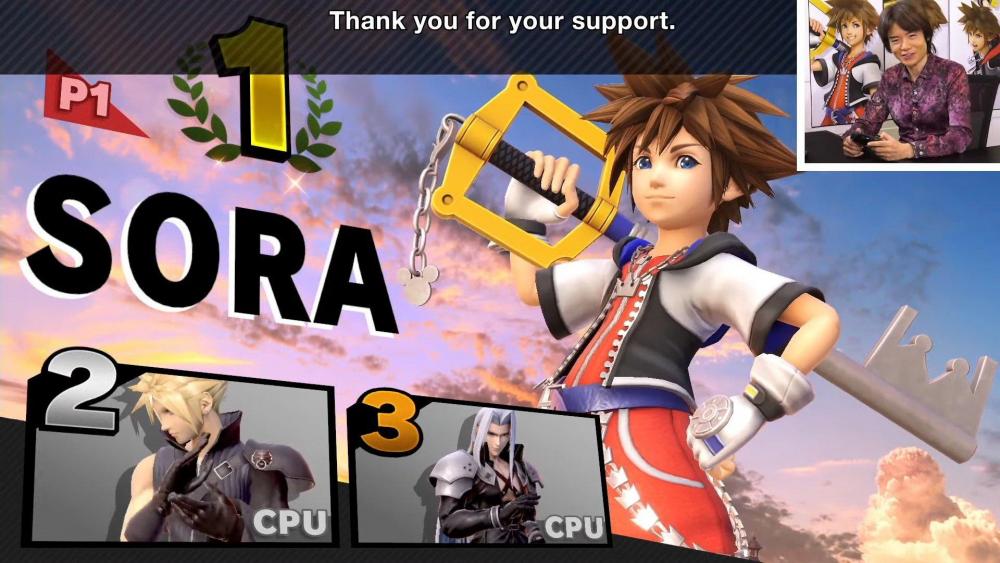 There are 10 songs included with purchasing Sora, and each track is from the first game. Unfortunately, none of these tracks have been arranged and are instead simply their original versions. These songs are listed below:
Night of Fate
Destiny's Force
Shrouding Dark Cloud
Hand in Hand
Blast Away! -Gummi Ship II-
Hollow Bastion
Scherzo Di Notte
Fragments of Sorrow
Destati
Dearly Beloved -Swing Version- (If the player has save data of Kingdom Hearts Melody of Memory on their Nintendo Switch)
Also, while not a track that can be played during battles, Sora's victory fanfare is an arrangement of Hand in Hand composed by Yoko Shimomura!
The Spirit Board contains 8 obtainable Spirits who can be viewed below:
Kairi (1 Star - Novice)
Ventus (2 Stars - Advanced)
Aqua (3 Stars - Ace)
Terra (2 Stars - Advanced)
Riku (3 Stars - Ace)
Xion (2 Stars - Advanced)
Axel (2 Stars - Advanced)
Roxas (5 Stars - Legend)
In the Japanese version specifically, Aqua's and Axel's names will be denoted with the "KINGDOM HEARTS series" because their names match with other spirits.
It is also worth noting that there are no direct references to Disney outside of the Mickey keychain on Sora's Keyblade. This was certainly done for copyright reasons, and it was even taken so far as to alter the characters' Dive to the Heart stations to remove any connotative Disney imagery.
Sora will be released for Super Smash Bros. Ultimate on October 18th, 2021. His character bundle, which consists of him, the music tracks, spirits, and the Hollow Bastion stage, costs $5.99. Alternatively, he is included in the Fighter's Pass 2 bundle.
For a more in-depth look at Sora's fighting prowess, check out Sakurai's overview of him below (timestamped):
You can view Sora on the legendary Super Smash Bros. Ultimate banner artwork via our gallery below:
You can view the full Sora character trailer for Super Smash Bros. Ultimate below:
Yoko Shimomura and Tetsuya Nomura shared personal comments regarding Sora's inclusion in this hallmark fighting game, which you can view below:
Official screenshots of Sora in Super Smash Bros. Ultimate can be viewed via our galleries below:
The Rest of the Kingdom Hearts Games Are Coming to Nintendo Switch 
While technically part of the Super Smash Bros. Ultimate presentation, this is a separate matter. Sakurai announced that Kingdom Hearts - HD 1.5 + 2.5 ReMIX-, Kingdom Hearts HD 2.8 Final Chapter Prologue and Kingdom Hearts III + Re Mind will be playable on the Nintendo Switch via Cloud Gaming.
For those unaware, Cloud Gaming is a service where games are streamed from an online source. Therefore, a high-speed internet connection is recommended when utilizing this service.
No release dates or prices for any of these Cloud versions have been revealed yet.
The name of this collection is the Kingdom Hearts Integrum Masterpiece for Cloud, though the titles can be bought individually. As a neat bit of trivia, the Integrum Masterpiece part of the title was the name for the All-in-One collection in Japan.
Kingdom Hearts Dark Road Ending This Winter
Soon after the Super Smash Bros. Ultimate presentation for Sora concluded, Square Enix shared the 20th Anniversary trailer for the Kingdom Hearts franchise. The most notable new announcement in this trailer is that Kingdom Hearts Dark Road will be concluding this Winter. 
All of the remaining content, including the ending, will be released at once. In addition, the Kingdom Hearts Dark Road game will also be receiving its offline mode version 5.0 update.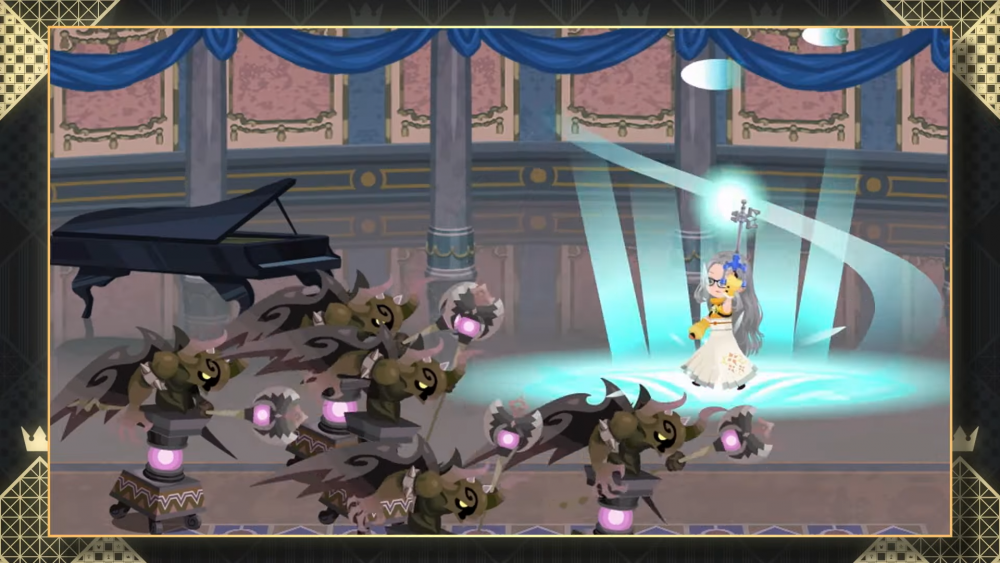 No specific date on when this content will drop has been provided. However, since it simply states Winter, I believe it's safe to assume it to be releasing sometime from January 2022 to March 2022 since, even though late December is when Winter initiates, they would have likely stated that month specifically in the trailer if it were releasing then.
Kingdom Hearts 20th Anniversary Event
At the very end of the Kingdom Hearts 20th Anniversary trailer, Square Enix revealed that a Kingdom Hearts 20th Anniversary Event is planned. No details on when this will occur or the like have been provided yet, though. 
This is just a guess on my part, but since the original Kingdom Hearts was released in March 2002, I think this Anniversary event will be held in March 2022. 
Check out the Kingdom Hearts 20th Anniversary trailer below if you haven't already:
Merchandise
Of course, it can't be a celebration without merchandise. So the final bit of news in the Kingdom Hearts 20th Anniversary trailer is that there is a plethora of planned, celebratory merchandise.
The 2 products shown off during the trailer were the highly anticipated chess set, which is now available for pre-order, and Kingdom Hearts III suitcases currently in development. 
Also, while not all necessarily anniversary items, several other Kingdom Hearts-themed products were revealed this week. You can view each of the items revealed below:
Lastly, while not merchandise, the announcement of Kingdom Hearts-themed guest rooms returning to the Disney ambassador hotel at Tokyo Disney Resort this Winter is noteworthy.
And that is all of the essential information that all fans should know of from this wild week of immense news drops. The 20th Anniversary of the Kingdom Hearts franchise has not even truly begun yet, and we're already being provided staggering news that will surely amplify once we hit 2022.
What are you looking forward to from the Kingdom Hearts 20th Anniversary and what types of celebratory occurences would you like to see? Additionally, how thrilled are you to finally play as Sora in Super Smash Bros. Ultimate? Let us know in the comments below!