The first mention of new in-game music for Kingdom Hearts III has been done by artist PHI from SERGE on January 2, 2018. They tweeted that they were in charge of remixing the area and battle music for a certain world in Kingdom Hearts III.
You can view the tweet here and below.
A full translation of the tweet has been provided by goldpanner.
"2018 has just started and already I have big news!!

 

[silence Clause Lifted]

 

I was put in charge of remixing the battle theme and field theme for a certain world in Kingdom Hearts 3! I hope you all play the game and check it out!"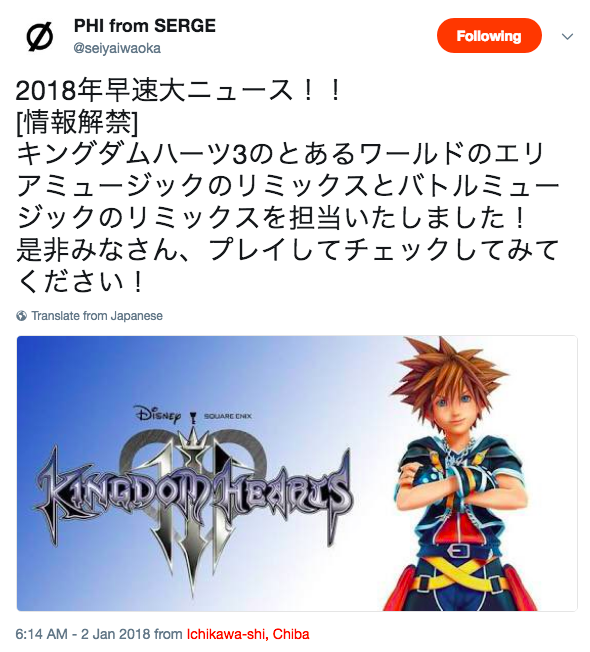 The tweet has not been liked, retweeted, or in any way referenced by an official source, so its legitimacy is still under doubt.
Thanks to @aibo_ac7 on Twitter for the tip!
UPDATE [Jan 10, 2018]: Upon investigating the person behind PHI from SERGE, known as Seiya Iwaoka, we have stumbled upon a photo of the cover art of Kingdom Hearts HD 2.8 Final Chapter Prologue that he posted on December 1, 2017, claiming to have worked on some tracks from the game. However, he does not seem to have been credited.
You can view the post here and below, with a translation provided by KH13 staff member Mio-chan.
"Prohibited information

 

I was a part of Kingdom Hearts 2.8's music, and I also worked on remix!

People who have the PS4 and have played the KH series, and for those whom it's their first time, please play it!

 

It's very interesting and has a deep story!"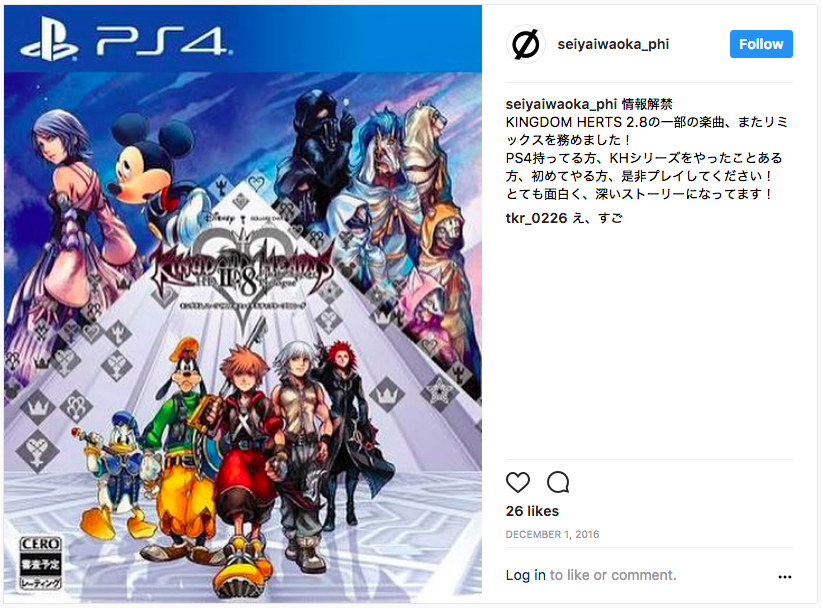 It was only a month ago when Utada Teruzane, Utada Hikaru's father and manager, tweeted for fans to be positive regarding Utada Hikaru's involvement in Kingdom Hearts III.
You can visit PHI for SERGE's YouTube channel here, SoundCloud here, Twitter account here, Facebook here, and Instagram here.
UPDATE [Jan 20, 2018]: Both the tweet and the Instagram post have been deleted. PHI from SERGE has also deleted his Twitter account, YouTube channel, and PHI Instagram account (@phi_dj), stating "This account is not being used. Please observe." His statement can be seen here, translated by KH13 News Team member NihonScribe.
Let us know your expectations of the soundtrack of Kingdom Hearts III!