In 2013, Utada Hikaru's father and manager, Utada Teruzane, stated on Twitter that Utada Hikaru's involvement with Kingdom Hearts III was undecided at the time. On December 22, 2016, a curious fan followed up on this message, receiving a reply from Teruzane that they'll do the opening song for Kingdom Hearts III and that they've already started. Later, Teruzane retracted that statement, correcting himself by saying that they're eager to do the opening song for Kingdom Hearts III, but their decision is not yet official.
Now, on December 6, 2017, Teruzane was asked once more on Twitter if Hikaru would do Kingdom Hearts III's opening song, and he replied saying that he can't say anything yet, but to be positive and that they won't break your heart. View the full tweet below: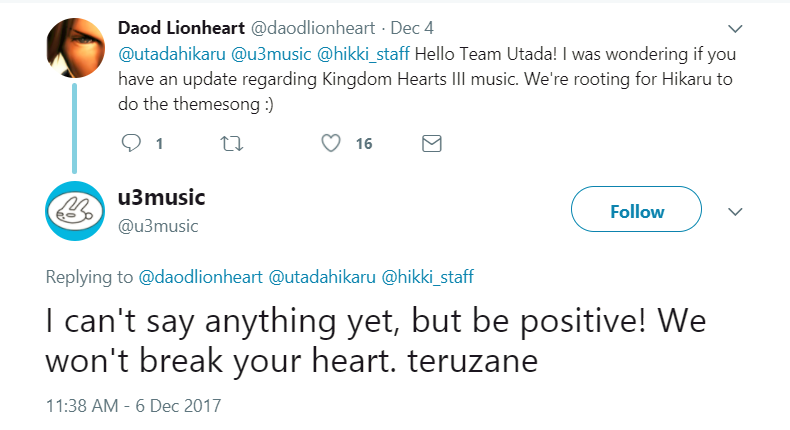 It was also just recently revealed that Utada Hikaru will release a new album and is planning for a live tour across Japan in 2018. Also, all of her songs from "Automatic" to "Fantôme" will be releasing on Apple Music, Spotify, and other subscription services. You can read more about these new announcements in the article here.