The Koch Media online store website and Amazon Germany have listed a "Kingdom Hearts PS4 Collection".
The item is only available in German, as it is only listed in the German and Austrian online stores; in the Swiss online store, it is listed as "Kingdom Hearts PS4 Collection (PS4) (DE)."
The item is priced at €69,99 (and at SFr. 79.90 on the Swiss website), with a release date of November 24, 2017.
The item description is as follows:
Art. Nr .: 1025296

EAN: 4020628771201

Release: 24.11.2017

 

The popular action RPG series Kingdom Hearts is now available in a Mega XL Bundle!

 

Incl. Kingdom Hearts HD 1.5 & 2.5 ReMIX

Incl. Kingdom Hearts HD 2.8 Final Chapter Prologue
It is unclear whether or not this will be a special edition containing exclusive merchandise and packaging, such as the Kingdom Hearts HD 2.5 ReMIX Collector's Edition, or a bundle with items aside from the individual games.
The website has not provided any information regarding the packaging of the product or any other item apart (from the games) that may be included in it.
UPDATE: As of October 25, 2017, the listing seems to have gone from both Koch Media and Amazon Germany. The links on Koch Media now lead to a page saying "The product could not be found." For your reference, below is a picture of the product page when it was active on the German website.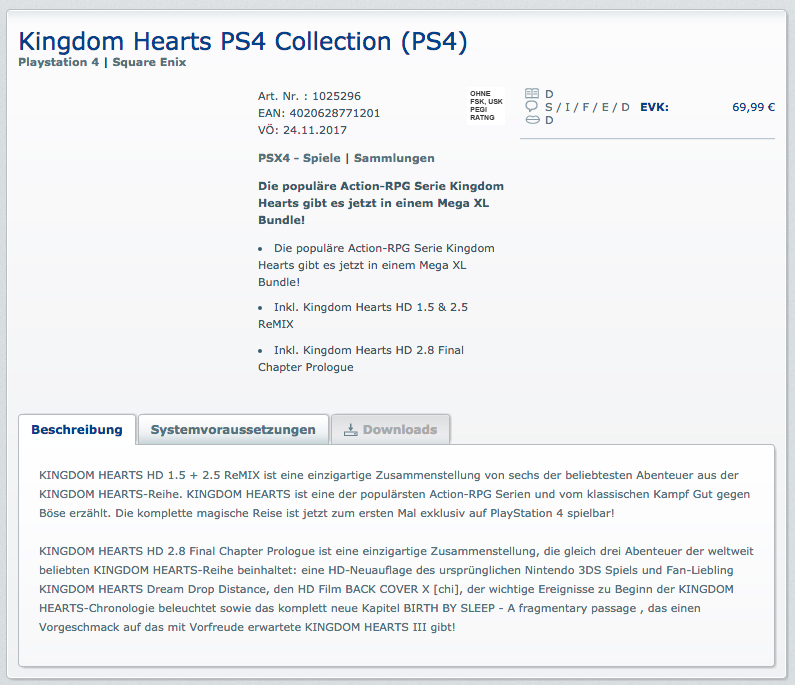 Keep an eye on this space for future updates on this product!