With only two days to go until the international release of Kingdom Hearts III (or one, depending on your timezone), fans who have pre-ordered the digital version are now pre-downloading it on consoles! The Update 1.01, comprising several data fixes and the Memory Archive for the series recap videos, is also available to download on PlayStation 4 ahead of schedule.
Many fans around the world were able to receive their pre-ordered physical copies of Kingdom Hearts III ahead of its international release on January 29 due to early shipping. Many also reported that they have bought the game from various retailers. Reportedly, many European stores have also started soft launches of the game, some even bumping up the release date on their listings to January 26. Multiple stores in the UK will be selling the game starting Monday, January 28. Older reports state that the game had broken street date even in some countries in the Middle East such as the UAE.
With many fans already owning the localized versions of the game, they will now able to download Update 1.01 and enjoy the game with the intended updates before their scheduled release.
Amongst the physical copy pre-orders of the game is the Limited Edition Kingdom Hearts III PlayStation 4 Pro Bundle; some fans have already received theirs in the mail, whilst others are still waiting for their delivery. Unfortunately for American fans, GameStop US - who were selling the PS4 bundle exclusively in the country - have cancelled multiple orders due to overselling the product. You can read their statement below.
If you have pre-ordered the bundle from GameStop US, make sure to contact their customer service to check up on the status of your order.
Some branches of GameStop US will be holding a 9 PM (local time) release for the game. The main EBGames branch in Melbourne, Australia, will be holding a midnight launch, as will GAME UK (Stratford, London branch). Gamers Hideout branches in Malaysia will also hold a midnight release, during which they will host activities such as cosplay photo session & giveaway and photo op with Kingdom Hearts props. Don't forget to inquire at your local retailer about midnight launches if you're interested!
Furthermore, Game Realms in Burbank, California, will be holding a post-launch party on February 2nd! Special guests include Quinton Flynn and Bill Farmer, the voice actors of Axel and Goofy. You can read their rules and policies for the event here.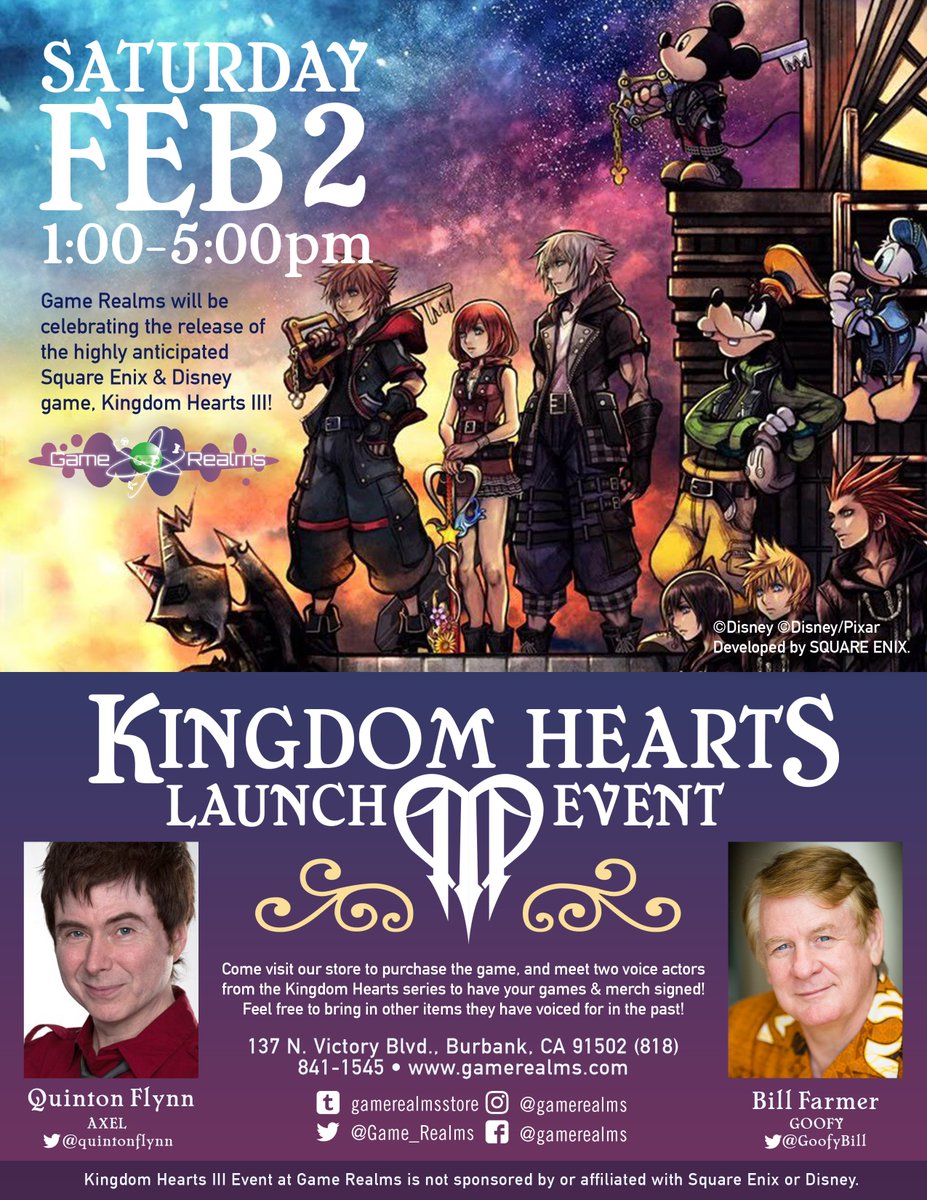 Follow our master coverage of Kingdom Hearts III pre- and post launch here! Stay up-to-date with the latest news on our Twitter, Tumblr, Facebook, and Discord!
Recent news:
- Memory Archive recap videos have been uploaded to Kingdom Hearts Youtube channel
- Our Kingdom Hearts VR Experience Review
- Content creators release Kingdom Hearts series retrospectives looking back on the long wait for Kingdom Hearts III and recapping the series' story