Kingdom Hearts III Re Mind releases on January 23rd, 2020 for PlayStation 4, and February 25th, 2020 for Xbox One!
The new Kingdom Hearts III Re:Mind DLC trailer, previously teased at the Osaka show of the Kingdom Hearts Orchestra - World of Tres - tour, is now available to view as an unlisted video on the official Kingdom Hearts YouTube channel. You can watch it below!
This trailer showcases several new features that will be available as part of Kingdom Hearts III Re:Mind:
The inclusion of Final Fantasy characters, including Squall/Leon, Yuffie, and Aerith
Explorable Scala Ad Caelum
Playable Kairi
A battle sequence where the Guardians of Light clash with the Xehanort vessels. The three available commands are Attack, Aerial Dodge and Reflega.
Several new boss battles are shown, including more Organization XIII battles, as well as a battle against what seems to be a recolored version of Dark Inferno
New story sequences, including:

Riku traveling to Radiant Garden to find Sora
Sora and Aqua standing against several clones/visions(?) of Dark Aqua, implied by Sora to be the embodiment of Aqua's despair
Demyx appearing before Riku in the Keyblade Graveyard
Sora unlocking Riku's Dive to the Heart
Sora and Kairi together in the Final World
Sora meeting Yozora in a night-time scene in the Final World
UPDATE: The unlisted trailer has been made private. We will not be sharing this trailer again until Square Enix have officially released it.
UPDATE: The video originally contained the following video description. You can view the description below.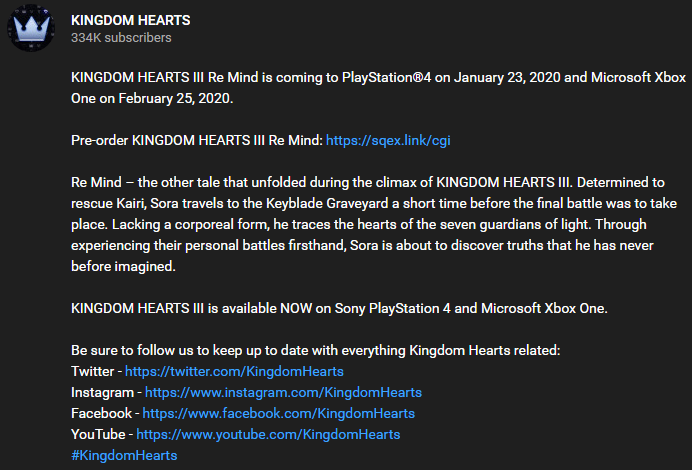 Quote

Re Mind - The other tale that unfolded during the climax of KINGDOM HEARTS III. Determined to rescue Kairi, Sora travels to the Keyblade Graveyard a short time before the final battle was to take place. Lacking a corporeal form, he traces the hearts of the Seven Guardians of Light. Through experiencing their personal battles firsthand, Sora is about to discover the truths that he has never before imagined.
Big thanks to @KairiHawk for the screenshot!