Welcome to KH13's coverage for Kingdom Hearts III! This will be the home and central hub to locate many resources leading up to and beyond the release of the game, as well as an area to view other exciting content like guides and reviews. Whether you're an old fan of the series or just have recently gained an interest in it, we've got you covered!
Follow our social media coverage on Twitter, Facebook, and Tumblr, and join our Discord to discuss the latest news!
Here's how you can participate in our community upon Kingdom Hearts III's release!
Kingdom Hearts III will release on January 25 in Japan and January 29 to the rest of the world.
Spoiler Policy




After the release of Kingdom Hearts III worldwide, we will continue to report on officially released information (press releases, interviews, etc.) and content such as the opening themes, cinematics, artbook, trophy list, etc. while being mindful of spoilers on our website (via spoiler boxes/warnings) and social media. We won't openly discuss spoilers until March 31, 2019.
For our spoiler policy regarding forum and website guidelines, click here.
Kingdom Hearts III Final Battle Trailer




Kingdom Hearts III Launch Commercial




Click here for more Kingdom Hearts III trailers!
Post-Launch News Updates




- Kingdom Hearts III has officially released in Japan
- Kingdom Hearts III voted 2018 Most Anticipated Game by PlayStation Blog
- Kingdom Hearts III Update 1.01 now available to download on PlayStation 4
- Kingdom Hearts III is trending on Twitter and Twitch
- Kingdom Hearts III releases worldwide along with Update 1.02; Launch Day! and Launch Commercial videos released
- Kingdom Hearts Snapchat crown filter available for limited time
- KH13.com's Raxaimus unboxes the new Kingdom Hearts III Deluxe Edition + Bring Arts figures, as well as the limited edition Kingdom Hearts III PlayStation 4 Pro
- Tetsuya Nomura has left a message for fans in the Kingdom Hearts III artbook
- Kingdom Hearts III sold over 600,000 physical copies in the first three days in Japan
- Kingdom Hearts III Update 1.03 comprising Secret Movie is now available for download
- Kingdom Hearts III ships 5 million copies worldwide
- Kingdom Hearts III tops Japan's video game sales ranking for the second consecutive week with more than 700,000 copies sold; tops worldwide charts as well
- "A Look at Kingdom Hearts III As Told by Emoji video" has been uploaded by Disney
- Kingdom Hearts III's development team has shared what it was like working with Disney and Pixar
- A watermark from a Maya rendering engine has been accidentally left in one frame of a cutscene in Kingdom Hearts III
Pre-Launch Kingdom Hearts III News Highlights




- Development of Kingdom Hearts III has concluded
- KH3 Launch Party by Game Realms in Burbank, CA on February 2nd, 2019
- Kingdom Hearts III Ultimania releasing on February 28, 2019
- Kingdom Hearts III Vol. 1 Re:Start novel to release March 28, 2019
- Kingdom Hearts III launch campaign at Square Enix Cafe Osaka and Tokyo and ARTNIA starting February
- Kingdom Hearts Orchestra -World of Tres- worldwide tour announced for 2019
- More on the power of awakening, Roxas's resurrection, and Kingdom Hearts III's secret ending requirement (interview with Tetsuya Nomura)
- Tetsuya Nomura discusses writing the scenario (including dialogue) for Kingdom Hearts III and the game's own Instagram-like social network
- Tetsuya Nomura on free and inclusive DLC for Kingdom Hearts III, prioritizing the next title, and rethinking simultaneous worldwide releases after leaks
Click here for more Kingdom Hearts III news!
Kingdom Hearts III Reviews




KH13's Kingdom Hearts III review: "It is definitely a masterpiece"
KH13's video review (full, spoiler-free discussion:
Metacritic's current aggregated critic review: 85/100
Critic
Excerpt
Score
Gamereactor
"Simply put, Kingdom Hearts III is a masterpiece."
100
PlayStation LifeStyle
(Editor's Choice)
"I never once thought there was a way Square Enix could live up to the hype the company has built up for this game. But bravo, it has done it and then some."
100
Impulsegamer
"It's a great use of the Disney characters and imagining of the locations that should entertain young and old… it does in our house."
98
XGN
"Magical from start to finish."
98
Famitsu
-
97.5 (39/40)
Hobby Consolas
"Its greatest achievement is that, despite the passage of time, it is still an experience that can only be described with one word: magic."
95
The Games Machine
"Kingdom Hearts 3 succeeds in the difficult task of being up to expectations, not distorting anything but raising to the nth degree the strengths of the previous chapters."
95
Game Informer
(Game of the Month)
"A main attraction worth waiting for."
95
Easy Allies
"It may have a been a long time coming, but Kingdom Hearts III delivers on its promises, and it's easily the best game in the series. "
95
Meristation
"An outstanding adventure that has come to remind us why Sora, Riku and Kairi ... and Donald, Goofy and Mickey Mouse, of course, are living videogame history."
91
3DJuegos
"Its extraordinary fusion of creative worlds reaches a new peak in the history of the franchise, giving rise to playable concepts that surprise from start to finish in a durable video game loaded with content."
90
US Gamer
"Kingdom Hearts 3 ushers a beloved series into a new generation, while wholeheartedly embracing its roots."
90
Atomix
"The wait for KH3 was very long, but believe me when I tell you that it was really worth it."
90
GamesBeat
"Excessive, yet satisfying."
90
IGN Italia
"A game that focuses on spectacularity, coming out head-on. Kingdom Hearts III is the worthy conclusion of a journey begun seventeen years ago."
90
IGN Germany
"Kingdom Hearts 3 is by far the best Disney game, a fun action RPG and the successful completion of the Xehanort saga. Those interested in just one of these three aspects will have fun with the third part of the crossover series."
90
IGN Spain
"It's magic."
90
Multiplayer.it
"It would have been absurd to drastically change a structure that, for better or for worse, has become iconic. So Tetsuya Nomura did not do it."
90
Press Start Australia
"With exhilarating combat, fantastic Disney worlds and a smart approach to an unavoidably convoluted story, it does everything it needs to not only please hardcore fans but anyone up for a solid action JRPG. Against all odds, this might be the perfect Kingdom Hearts game."
90
Vandal
"Kingdom Hearts ends an era with a fantastic game, spectacular, varied and, above all, very fun."
90
GamePro Germany
"A colorful firework of childhood memories, motivating role-playing mechanics, and spectacular boss fights."
90
Gameblog.fr
"A true homage to the fans of the saga, to whom it addresses itself above all, Kingdoms Hearts III retraces the end of Sora's journey through the exploration of new worlds, more beautiful and vast than in the past, with a strong respect for the Disney worlds from which it is inspired. "
90
Trusted Reviews
"Whether you're a hardcore fan or a hesitant newcomer, there is an undeniable charm to Kingdom Hearts 3 that's easy to fall in love with."
90
PushSquare
"The fact that Kingdom Hearts III even managed to release could be considered a miracle in of itself, but what's perhaps even more surprising is that the finished product defies all expectations."
90
Twinfinite
"It's an unerring tribute to everything Disney and what the Kingdom Hearts series has become, and despite its few flaws creates an interesting blueprint for where the series could go next with gameplay and story."
90
Shacknews
"Kingdom Hearts III is an absolute triumph, conquering the darkness that plagued the series' past and standing firmly in the light."
90
Worth Playing
"Kingdom Hearts III is exactly the sequel it should be."
90
Hardcore Gamer
"From combat to story to graphics, Kingdom Hearts III delivers the magic, gut-punches and grandeur the series is known for."
90
Game Revolution
"When the credits finish rolling, you'll be safe in the knowledge that you've played a game like no other."
90
Digital Trends
"Kingdom Hearts III plays similarly to its PS2 predecessors while bringing new elements to the gameplay that make it feel incredibly modern."
90
Power Unlimited
"If you have warm feelings for Disney characters and worlds, this is perhaps the best game ever, but even if you do not feel anything for Disney, it is actually mandatory."
90
LevelUp
"Undoubtedly, Kingdom Hearts III is a satisfying chapter in one of the most beloved sagas by fans of the action JRPGs."
88
4Players.de
"Kingdom Hearts 3 is more than the sum of its items, more than a franchise mix of Disney and Square characters. Despite small weaknesses, it is an experience that leads me through a wide range of emotions and will establish itself as one of the most outstanding action-adventure of the year."
88
IGN
"Kingdom Hearts 3 is a fulfilling evolution and resolution of the franchise that shows it's still full of heart."
87
App Trigger
"Though the plot is a little too reliant on side entries and remembering almost everything in the series, Kingdom Hearts III is a welcome return of the Disney action-RPG epic and the best game in the series to date, making you really want to see the next chapter in the series as soon as possible."
85
Gamer.ni
"Kingdom Hearts 3 is far from perfect, but it is everything the fans hoped for."
85
GameCrate
"Kingdom Hearts III is too much game for its own good."
85
SpazioGames
"Kingdom Hearts III is technically excellent, aesthetically bewitching and in some moments manages to shine and sweep away any limitations it might have."
80
GamesRadar+
"I'm not sure how I lived without its Mickey Mouse shaped madness in my life."
80
GameSpot
 "In 2002, as Sora, I left Destiny Islands to travel across the universe and make new friends. In 2019 I brought old ones home, and I had so much fun doing it."
80
Eurogamer Italy
"Congestions aside, the combat system is one of the best in the saga for variety and dynamics, and there is no shortage of battles that will challenge the most experienced players."
80
FANDOM
"This magical finale overcomes its storytelling flaws."
80
Game Rant
"You may find yourself googling character names and plot details from 15 years ago, but all of that confusion fades away when you get lost in the moment summoning tea cups or a giant rollercoaster to help attack a big boss with your best friends."
80
ScreenRant
"A sprawling, varied game that is all the better for its wild, confusing moments."
80
Destructoid
"Despite all of the absurd twists and turns, the character missteps and the complete lack of some series-defining cast members, there are very few creations out there that make me smile this often."
80
PlayStation Universe
"Kingdom Hearts 3 has everything a title could want: iconic characters, enthralling and accessible gameplay, and a story that just won't quit."
80
CGMagazine
"Kingdom Hearts III is the biggest, boldest, flashiest entry in the saga—one that builds upon the gameplay systems of its forebears in a kaleidoscopic carnival of action RPG jubilance."
80
JeuxActu
"Backed up by a enjoyable battle system and a genuine love for the animation films it has adapted, Tetsuya Nomura's work takes on the big boys and we cannot not suggest it to you."
80
GameSpace
"If you embrace that it's all nonsense to serve you up a delightful nostalgic romp through some of the greatest and most beloved family films, you're not going to be disappointed."
80
The Digital Fix
"Kingdom Hearts 3 is a great game that parades itself around in a plethora of showy and colourful clothing and just asks you to watch."
80
Cultured Vultures
"While the game does come with some problems with its plot and big empty worlds, I wouldn't call them deal breakers, as whatever they lacked for they made up for with energy and, no pun intended, heart."
80
Jeuxvideos.com
"Despite its shortcomings, Kingdom Hearts III remains a very good experience which distils its world brilliantly."
80
Gamers Heroes
"Newcomers to the series will be baffled by the complexity and bizarre nature of Kingdom Hearts III's story. Despite this, if you like good combat and want to visit Disney World, you can do far worse than this title."
80
EGM
"Is it a game that lives up to a decade of hype, though? Perhaps not. But maybe no game could."
75
God is a Geek
"It may have been challenging at times, and the final flourish of boss fights nearly killed me, but I did enjoy playing the concluding game in Sora's journey to vanquish evil once and for all."
75
The Guardian
"Kingdom Hearts III plays it extremely safe, ultimately banking on nostalgia and delivering more of the same. Its charm is only skin-deep."
60
VideoGamer
"Kingdom Hearts III is a beautiful hunk of sugary writing, convoluted plotting, and repetitive combat with a reliance on beloved IP that exposes its shallow core."
40
Game Watch
-
N/A
Eurogamer
"A grand finale that's both torturous and sublime."
N/A
Kotaku
"Wow, they filled this game with stuff."
N/A
The Verge
"Maybe this is actually the ideal way to play: you're going to be confused no matter what, so you might as well embrace it."
N/A
Mashable
"I love the idea of this game being able to float me back into a time where I could cheer for Mickey Mouse without feeling silly and cry because Naminé was lonely. That feeling alone is worth the box price on Kingdom Hearts III."
N/A
Waypoint
"Kingdom Hearts III is an absolute disaster. I loved every minute of it."
N/A
The A.V. Club
"Kingdom Hearts III is a cheerful celebration of Disney's inescapable cultural monopoly."
N/A
Jimquisition
"Yes, it's more total nonsense from a story perspective. As a game? Well, it's a ton of bloody fun, because it's a very good game!"
N/A
Polygon
"After years of buildup, the story's conclusion fails to do it justice."
N/A
Resources




 KH13 Datascape: Gallery, Videos, Wikis, and more!
Kingdom Hearts Timeline series
Kingdom Hearts Games
Quote

"I would recommend going in order of release date, especially because the story hints at things that will happen in future releases. I feel it's more interesting that way. Of course, that's not to say you can't play in chronological order."
-Tetsuya Nomura, Director
Kingdom Hearts HD 1.5 + 2.5 ReMIX includes the following titles (in the order they were released originally):
- Kingdom Hearts Final Mix
- Kingdom Hearts Re:Chain of Memories
- Kingdom Hearts 358/2 Days (movie)
- Kingdom Hearts II Final Mix
- Kingdom Hearts Birth by Sleep Final Mix
- Kingdom Hearts Re:coded (movie)
Kingdom Hearts HD 2.8 Final Chapter Prologue includes the following titles (in the order they were released originally):
- Kingdom Hearts HD Dream Drop Distance
- Kingdom Hearts 0.2 Birth by Sleep -A fragmentary passage-
- Kingdom Hearts χ Back Cover
Kingdom Hearts Union χ[Cross] is an ongoing mobile game.
Kingdom Hearts Recap Videos
Square Enix have published five short episodes to recap the Kingdom Hearts series for Kingdom Hearts III!
Kingdom Hearts III Characters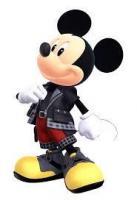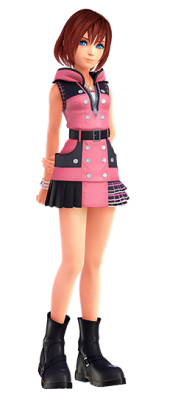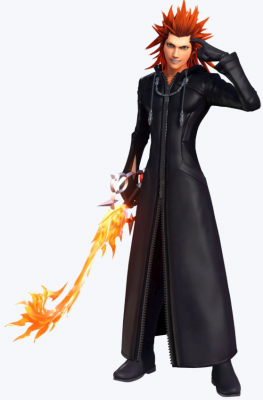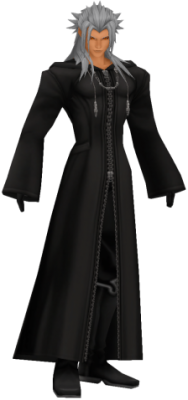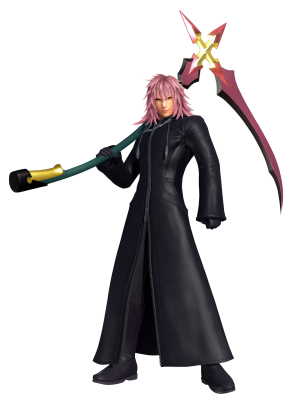 More characters include various Disney (and Pixar) protagonist and returning characters from the series!
Click here for information on more characters from the series!
Kingdom Hearts III Worlds
More worlds (playable/non-playable) include Radiant Garden, Disney Castle, Destiny Islands, Yen Sid's Tower, Castle Oblivion/Land of Departure, and Dark World!
Kingdom Hearts III Gameplay
Keyblade transformations: There are many different weapons that each Keyblade can transform into to give even more variety to the gameplay. You can also equip up to 3 Keyblades and switch between them in battle.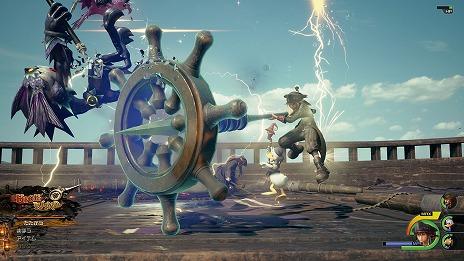 Magic: Use a range of spells for offense and defense, as well as to manipulate your environement, for example, by creating ice slides.
Gummi Ships: Used to travel between worlds. There are many different Gummi blocks to collect and use to design and empower your own Gummi Ship.
Links: Summon friends from other worlds to use their powers in battle.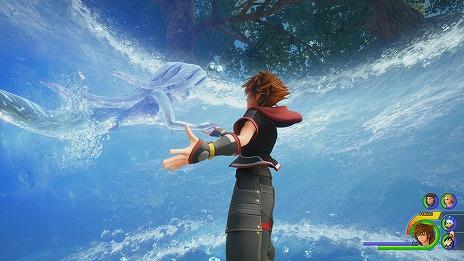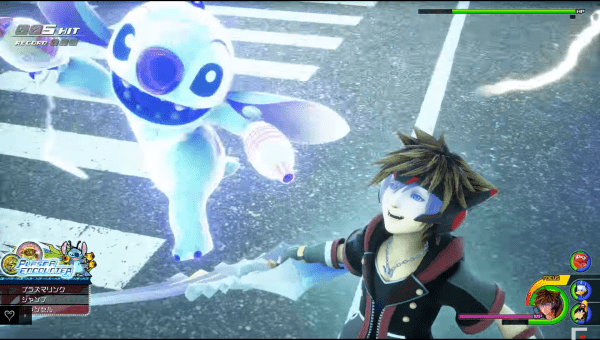 Attractions: Disney theme park rides can be summoned to deal powerful blows to the enemy.
Team Attacks: You can play with up to 5 party members; companions can collaborate with Sora to deliver powerful attacks.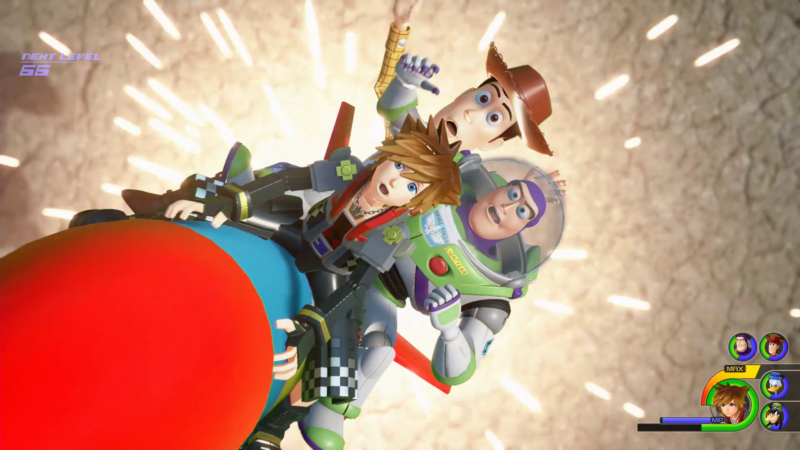 Mini-games: A range of mini-games can be played in each world.
Classic Kingdom: A special set of over 20 LCD-type mini-games that Sora can play on his Gummi Phone.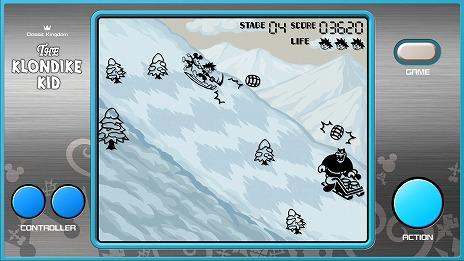 Selfies: Sora can also use his Gummi Phone to take selfies!
Kingdom Hearts III Trophy List




Trophy Type - Trophy Name - Trophy Description
Platinum - KINGDOM HEARTS III Complete Master - Unlock all other trophies.
Bronze - A New Journey - Begin your brand new adventure.
Bronze - Clash of the Gods - Adventure through Olympus and complete the story.
Bronze - A Wish at Twilight - Adventure through Twilight Town and complete the story.
Bronze - Inseparable Friends - Adventure through Toy Box and complete the story.
Bronze - Happily Ever After - Adventure through the Kingdom of Corona and complete the story.
Bronze - The Power of Laughter - Adventure through Monstropolis and complete the story.
Bronze - An Act of True Love - Adventure through Arendelle and complete the story.
Bronze - Way of the Pirate - Adventure through The Caribbean and complete the story.
Bronze - Making a Difference - Adventure through San Fransokyo and complete the story.
Bronze - Home Again - Adventure through the Hundred Acre Wood and complete the story.
Bronze - The Hearts Joined to His - Gather the seven guardians of light.
Bronze - No Matter What - Reunite with Kairi.
Silver - The Battle to End All - Begin the final confrontation with Master Xehanort.
Gold - Another Chapter Closed - Finish the game and view the ending.
Gold - Hidden Kings - Complete the lucky Emblems section of the Gummiphone.
Bronze - Know Thine Enemy - Complete the Adversaries section of the Gummiphone.
Silver - No Stone Unturned - Complete the Treasures section of the Gummiphone.
Silver - Synthesist - Complete the Synthesis section of the Gummiphone.
Bronze - One for the Books - Complete the Game Records section of the Gummiphone.
Bronze - Tall Enough to Ride - use an attraction to defeat enemies for the first time.
Bronze - Heartbound - Use a link to defeat enemies for the first time.
Bronze - Grand Mage - Cast grand magic for the first time.
Bronze - Knight - Defeat 1,000 enemies.
Bronze - Bishop - Defeat 3,000 enemies.
Silver - Rook - Defeat 5,000 enemies.
Silver - Flanmeister - Complete all of the Flantastic Seven missions.
Bronze - Salvager - Use the gummi ship to obtain 20 unique treasures.
Bronze - Stargazer - use the gummi ship to find and photograph all of the constellations.
Gold - Thermosphere - Destroy the Schwarzgeist, menace of the Ocean Between.
Bronze - Centurion - Score at least 12,000,000 pts. in Verum Rex: Beat of Lead.
Bronze - Festive Dancer - Score at least 70,000 pts. in the Festival Dance.
Bronze - Shield Shredder - Score at least 600,000 pts. in Frozen Slider.
Bronze - Datascraper - Get an A rank on both Flash Tracer courses.
Silver - Dreadnought - Fully Power up the Leviathan.
Bronze - True Captain - Sink 200 enemy ships in The Caribbean.
Bronze - Say Cheese! - Snap your first photo.
Bronze - Lasting Memories - Hold on to 50 photos.
Bronze - Cornucopia - Collect every type of ingredient.
Bronze - Full Course - Earn your first "Excellent" while preparing cuisine.
Silver - Master Chef - Earn an "Excellent" while preparing every type of cuisine.
Bronze - Muscle Memory - Get a new high score in one of the Classic Kingdom games.
Silver - Classically Trained - Get a new high score in every Classic Kingdom game.
Bronze - Blademaster - Obtain a Keyblade that is fully powered up.
Silver - Ultima Weapon - Synthesize the Ultima Weapon.
Silver - Leveled Out - Raise Sora to LV 99.
Kingdom Hearts III Artbook